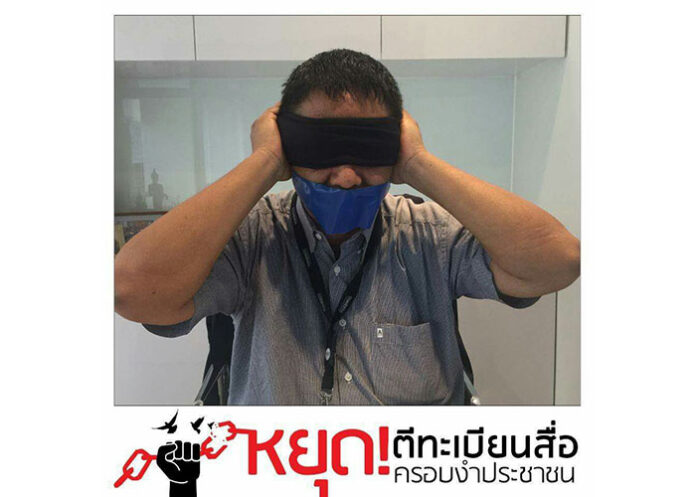 In a dictator's wildest dreams, there will only be friendly journalists acting as de facto propaganda mouthpiece who will occasionally sing along in karaoke sessions. Those critical of the dictatorial state would be banned from practicing journalism.
Such a dream is not a fantasy but looks increasingly real for Thailand. If the deceptive "media-reform bill" gets a nod by the cabinet next week and soon after by the junta-appointed National Legislative Assembly, a rubber-stamp parliament, all Thai journalists will be required to possess a license to practice their craft. A committee, filled with senior government officials and media professionals friendly to the state will decide who will qualify for a professional license and whose licenses should be renewed.
The yet-to-be-established 13-person "national media professional council" will contain four council members who are top bureaucrats from four ministries, namely permanent secretaries from the ministries of digital economy, finance, culture and the Prime Minister's Office.
Put simply, if the bill is passed, journalists who question the illegitimate junta power or future elected regimes may find themselves unable to attain a license while those who flatter those in power enough will have no problem.
Even newspapers such as the Thai Post, for nearly three years a beacon of pro-junta journalism, has come to a rude awakening. On Thursday, the paper denounced the proposed bill as an attempt to suppress press freedom at the top of its front page. It may be too little too late. Those drafting the bill and those who will ultimately consider the bill are all appointed by the junta leader Gen. Prayuth Chan-ocha, who led the May 2014 coup.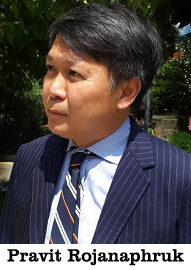 Citing one of the world's worst places for free press, Air Chief Marshal Kanit Suwannate, chairman of the National Reform Steering Assembly's Media Reform subcommittee who drafted the proposed bill looked to Singapore as a model to emulate.
Kanit was quoted in the media Friday saying, "Licensing under this bill will keep the press in order like in Singapore."
Late last night, Human Rights Watch had this to say:
"The misnamed media rights and freedom law is the junta's latest attempt to increase government interference and control of any independent news reporting," Brad Adams, its Asia director wrote. "Passage of this draft law would mean that reporters in Thailand will be constantly looking over their shoulder at a government-appointed panel that can have them jailed."
According to Paris-based Reporters Without Borders's latest annual World Press Freedom Index for 2017, Singapore currently was ranked even lower than Juntaland Thailand, at number 151 out of 180 nations. North Korea came in at 180, in case you wonder.
Thailand fell six places this year to No. 142, which is still nine ahead of Singapore – but maybe not for long.
Here's how RSF describes press freedom, or the lack of it, in Singapore, which Kanit seems to admire and want to emulate:
"Prime Minister Lee Hsien Loong's government responds vigorously to criticism from journalists and does not hesitate to sue its detractors and apply pressure to make them unemployable, or even force them to leave the country. The Media Development Authority has the power to censor journalistic content, both in the traditional media and online. Defamation suits are common in the city-state and may sometimes be accompanied by a charge of sedition, which is punishable by up to 21 years in prison. The range of issues and public figures that are off limits for the media is growing.  Journalists refer to the red lines as "OB markers" (for out-of-bounds markers.)"
For decades, Thailand already has its OB markers from its draconian lese majeste law, making any criticism of the monarchy, no matter how gentle or well-intended, or sharing critical content, a crime punishable by 15 years in jail. Since the 2014 coup, the junta has made the Computer Crime Act even harsher. Now, the deceptively-named Media-Reform Bill could be the nail in the coffin.
The proposed bill will control not just the press but online media that's not traditionally counted as proper media organizations. It restricts the public's right to be informed as well.
It may take many years before the Thai press will recover its lost ground, taken away by the National Council for Peace and Order, if ever.
Thailand, or Juntaland, is definitely heading backward, regressively, when it comes to press freedom and freedom of expression.
The repressive abyss where a free press is illegal is looking increasingly like the junta's preferred final destination for Thailand.