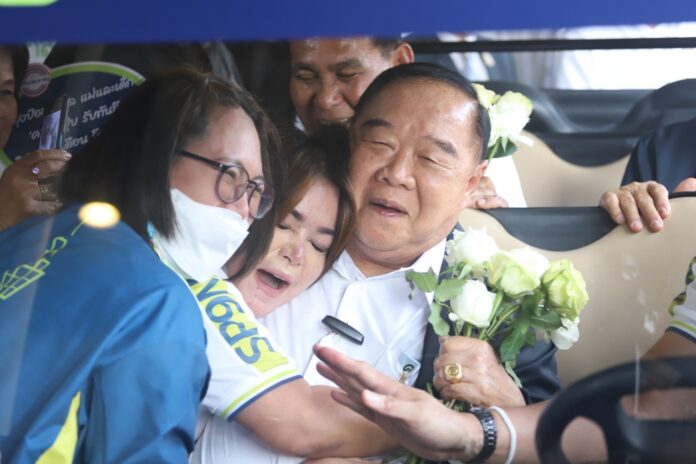 The bigger the lie, or at least the bigger the attempted deception, the higher chance it will succeed in making others believe – at least some people believe this judging from the latest re-positioning of the ruling Phalang Pracharath Party which now branded itself as the party for national reconciliation.
Many campaign posters by the party in Bangkok and beyond present the party, which is headed by former deputy junta leader Gen. Prawit Wongsuwan, as Thailand's hope for national reconciliation.
"Transcend conflicts" promises one such poster from the ruling party along the streets of the capital. In a sane society, people may think such posters is the work of a prankster or the party must be mocking itself but there is no sign that anyone in the party think it is ironic, comical, absurd, or a sick joke for a political party which used to support former junta leader Gen. Prayut Chan-ocha, a man of well-documented political repressions as junta leader, to become prime minister again in 2019 and now seeking to support its own leader, Gen. Prawit, who is currently the first deputy premier, as the next PM after the general election.
Was Prawit not part of the conflicts over the past eight years? Should we only blame Prayut (who is also running for PM yet again albeit from the platform of the United Thai Nation Party)? If that is not the case, how could Prawit and his party dare to promise to bring about national reconciliation when he and the party itself has been and continues to be a big part of the protracted political conflicts that's preventing Thailand from really progressing over the past eight years?
The reality is that Prawit and Phalang Pracharath Party are oblivious to the political reality – perhaps as the deputy junta leader and then first deputy premier, Prawit has been surrounded by a court of sycophants for too long to think there is anything oxymoron about such rebranding. Prawit even claimed on his official Facebook page earlier this week that he can do a better job than others in realizing national reconciliation and urged the voters to believe him "for once."
Whether you believe Gen. Prawit or not, some people have become too obsessed with the notion of national reconciliation. To some, the term in fact means a political state lacking in disagreement, while in fact what Thai society needs is the ability to openly disagree in a mature manner and not undermine the rule of law by calling for yet another military coup.
Already, PM Gen. Prayut must calm some nerves on Thursday by vowing that there will be no more military coups. It is easier to make such a statement than preventing another future coup, particularly after a long record of a dozen "successful coups" and the fat compensation most coup leaders received – not to mention a sizeable group within the public willing to call for another coup if their political side loses in the elections.
In case of Prayut – it is eight years as PM, the first five years concurrently as junta leader who is "legally" speaking a law unto himself as he could override the executive, legislative, and judicial branches. Even now enough is never enough for Prayut as the incumbent is seeking a third PM term, though he has to compete with Gen. Prawit, his deputy in democratic crimes of overthrowing the Pheu Thai-led government back in 2014.
Thus, there is no guarantee that some younger rogue generals will not be tempted to follow the path of both Prayut and Prawit and decide to roll out tanks.
What Thailand needs, beside getting rid of these rogue generals and sending the army back to the barracks, is to recognize that we do not need superficial national reconciliation. Instead, Thai society needs to be able to disagree openly about politics, about the role of the monarchy, about religions, and more without having anyone imprisoned or having another military coup.
We need to be able to agree to disagree and respect election results as it constitutes the mandate of the people and cooperate even with those who hold differing political ideology whenever we can for the benefit of the country. Last but not least, we need to wean away from being addicted to the superficial notion of national reconciliation.