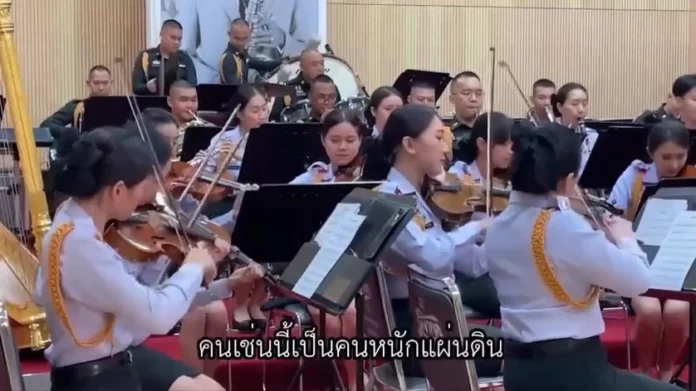 Despite Army Chief Gen. Narongpan Jitkaewthae reassurance a few months ago that the army is impartial when it comes to politics and Sunday's general election, the Royal Thai Army on Friday released what appeared to be their theme song for the voters to consider.
A new rendition of the infamous Cold War-era song Nak Paen Din (หนักแผ่นดิน) or "Burden of the Land" was posted of the Facebook page of the Royal Thai Army early Friday afternoon.
The song, composed by an army colonel back in 1975, talks about how some Thais "traitors" are ungrateful to the nation, the monarchy, and the religion (chiefly Buddhism here) and colluding with foreign powers (U.S. imperialists) to create a rift within society so Thais will fight against each other by importing alien ideologies (back then China and USSR socialism and communism, and now democracy from the West) are a burden to the motherland.
This is a black-and-white portrayal of the Cold War struggle when many young, educated Thais fled to the jungle to join the now defunct Communist Party of Thailand a year after the song was composed, seemingly repeated ad infinitum on free radios and televisions to the point where no one cannot possibly have not heard of the song.
The exodus by young, educated Thais into the jungle in drove came after the Oct. 6, 1976, massacre at and around Thammasat University where dozens of young Thais and students accused of being communists, communist sympathizers, or Vietnamese infiltrators, were lynched to deaths in the most brutal ways imaginable.
Today, the Communist Party of Thailand is long gone and Thailand, including the army, enthusiastically embrace Communist China as their best friends, if not brother. To ultra-royalists, and army supporters, the only party most vaguely resembling the song's villain in 2023 is the opposition Move Forward Party, which is gaining more and more popularity in the polls over the past week and finally vow to lead the next government if it gains 160 MP seats in next Sunday general election.
This is because Move Forward is the only party seeking to amend the controversial lese majeste law, end compulsory military conscription (a source for free gardener, driver and man servant for many generals), reform the armed forces (read downsizing), introduce locally elected provincial governors (which means the central government, particularly the Interior Ministry, will have less power) and devolve powers in the three-southernmost provinces mostly populated by Thai-Malay Muslims (read possible secession by populations from the former Sultanate of Pattani) and more.
Many interpreted it as a message sent to both Move Forward Party and a wakeup call for conservative royalists and ultra-royalists to be alert – and a not so implicit warning of yet another possible military coup.
"They need to be dealt with swiftly," wrote Facebook user Tor Tar on Friday on a royalist Facebook page Thai Raksa. "Soldiers are doing the right thing and we need to clearly single them out these people who seek to destroy the nation, religion and the monarchy … Soldiers are protecting national security and a fight and crackdown is in order," wrote user Wanvipa Chokmongkol on the same Facebook page Friday.
"If we wait until the day anti-monarchists are in government, don't be sorry later…," writes Facebook user Thippwan Poompuang on the same page.
Even before Friday, the spectre of a military takeover sometimes after the election has already been entertained by not a few people including prominent anti-junta activist Nutta "Bow" Mahattana. Nutta posted earlier this week on Facebook to her 119K followers suggesting voters should avoid choosing a political party which could risk setting the motion for a military coup.
Also, earlier this week, Progressive Movement leader Thanathorn Juangroongruangkit told Matichon on Monday, if there is another military coup, it would not end like in the past and they will know "what hell looks like."
Hours later Friday, the Royal Thai Army mysteriously removed its Facebook post without explanation. The message has been conveyed, however.
Clearly Thai citizens are dealing with a state within a state, or even the deep state, that is the rogue army and voters from the pro-democracy camp, will do well to prepare themselves for the likelihood of yet another coup for we cannot expect politicians alone to save Thailand from these potential future coup makers.
Plan B is definitely needed.