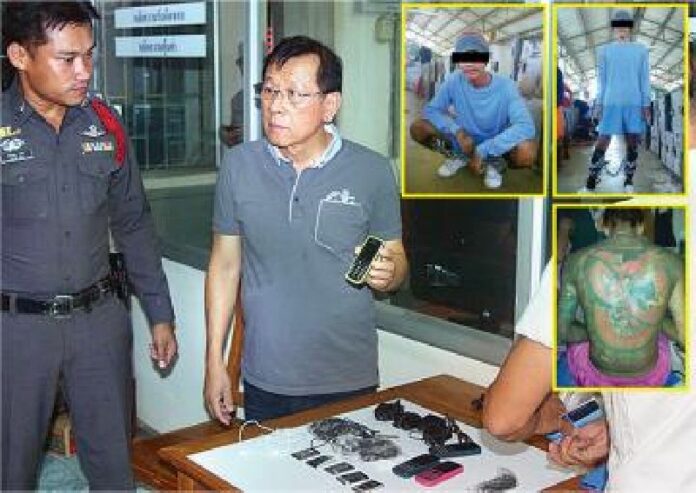 (29 April) A Song Kwae male inmate from the Pitsanulok prison is sentenced to 2 additional years in prison after uploading a photo of himself in chains onto his Facebook profile.
The case came to the attention of Mr.Pongmitr Prasersakul, director of the Pitsanulok prison, due to much controversy from the circulation of this photograph online. Investigations reveal the inmate to be Mr.Mawin Sompunwong, 28.
Upon questioning, the inmate claims to have borrowed a friend's phone to take the photo. No contraband was found in his cell. However, he was sent to solitary confinement. His sentence of 5 years for rape charges was set to be completed at the end of the month, but now the inmate is looking at a prolonged sentence for his Facebook upload.
Officials were able to confiscate 7 mobile phones, with chargers and headphones near the prison grounds, ready to be thrown in to the inmates. Officials reveal that normal cell phones go for 40,000 baht in the prison, while Iphones may cost as much as 170,000 baht.
The inmates can buy these phones, and also drugs from vendors who throw the goods to them over the prison wall.The charger can be adapted to the power outlet within the prison by inserting needles into electrical wires.
Reportedly, while the search was being conducted, a suspect discarded some items near the residence of the prison commander outside the prison grounds. The package was revealed to be 7 cellphones, 4 chargers, 5 batteries, and 5 headphones which was hidden and planned to be thrown into the prison again after the search that night.