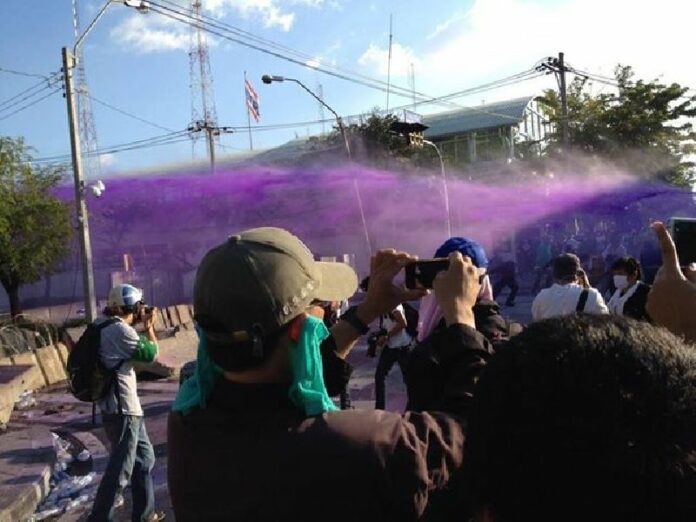 (3 December) A public health official has dismissed reports that water cannon used by the police in clashes with the anti-government protesters contained hazardous chemicals.
Throughout much of the clashes over the weekend near Government House the police employed water cannon and tear gas in fighting off waves of protesters, but anti-government media have questioned the use of the high-pressure purple-coloured water by the police.
A number of protesters also reported receiving skin injuries from the water, leading to speculation that the water might contain tear gas or other "chemical weapons".
But Ms. Chantana Padungtos, MD, an official from Department of Disease Control which operates under Ministry of Public Health, said the water has been mixed with a colourful and hard-to-clean chemical in order to identify the aggressive protesters and arrest them later, if the police chose to do so.
She identified chemicals in the water as Potassium permanganate, which many Thais uses as the chemical to wash their market fresh fruits, and Sodium thiosulphate, which Ms. Chantana said was mixed in the water for a better propelling effect.
Nevertheless, Ms. Chantana said, the two chemicals can cause a mild level of sulfur dioxide that can result in skin irritation. "The purple water is not chemical weapon," she stressed, "Its acid density is only slightly higher than vinegar".
She added, "And no tear gas was mixed into the water because tear gas cannot be used in water"
The official described the measure as one of universal crowd control methods, along with pepper spray, tear gas, and rubber bullets.
For comments, or corrections to this article please contact: [email protected]
You can also find Khaosod English on Twitter and Facebook
http://twitter.com/KhaosodEnglish
http://www.facebook.com/KhaosodEnglish