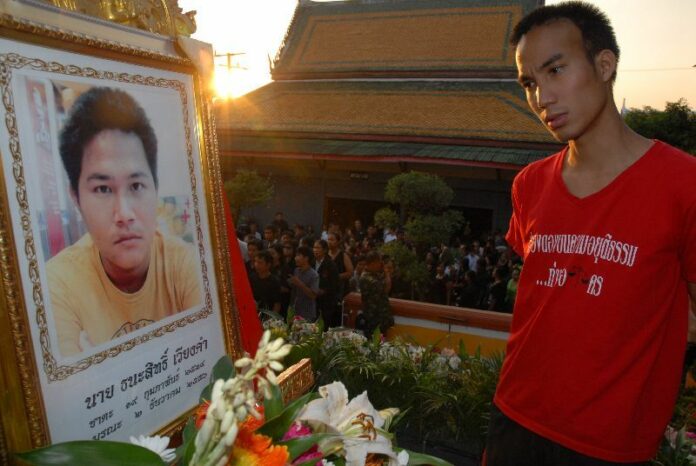 (5 December) Father of a pro-government protester killed in clashes at Bangkok′s Ramkhamhaeng district last week has asked the police to swiftly solve the murder of his son.
Mr. Wimol Paophu made the comment at Pheu Thai Party headquarters, where he met with several Pheu Thai MPs, asking for their assistance in pursuing the justice on the behalf of his son, Mr. Wisanu Paophu, 27.
Mr. Wisanu is one of four people killed in the violence, which erupted in Ramkhamkhaeng on 30 November when anti-government protesters, mostly led by vocational and university students in the area, marched toward Rajamangala Stadium where thousands of Redshirts were holding a mass rally.
The dead have been identified as three Redshirts and one student, who is thought to be an anti-government protester. All bodies bear gunshot wounds.
Mr. Wisanu′s father told reporters yesterday he would like to see the police working more actively in the case. "I?ve seen no progress", he said. He also urges the police to arrest those responsible for his son′s murder and place them on trial as soon as possible.
"I want justice for my son. My family has previously attended the rally to listen to speeches of UDD leaders," Mr. Wimol added, referring to National United Front of Democracy Against Dictatorship, "I am saddened by the violence and the death of my son".
In the press conference held yesterday at Imperial Ladprao Shopping Mall, UDD leader Jatupon Prompan said he agreed with anti-government protest leader Suthep Thaugsuban′s call for the police to examine the clashes at Ramkhamhaeng, but he faulted Mr. Suthep for focusing entirely on the death of the suspected anti-government student protester.
"He should call [for justice] for every dead body, every life, because there are also injured and dead Redshirts," Mr. Jatupon said.
The UDD leader said the Redshirts will return to the streets for another show of strength after 5 December – His Majesty the King′s Birthday – but stressed that the Redshirts will stick to peaceful rallies and change the venue for their next political activities to avoid further losses of life.
"We will never give up this land to Mr. Suthep," Mr. Jatupon told reporters.
Several Redshirts who were wounded in the clashes with anti-government protesters also made an appearance at the press conference. Among them was Mr. Somyos Wongchanla, a 46 year old taxi driver, who said his vehicle was mobbed by anti-government protesters in the early hours of 1 December, dragged out of his car, and repeatedly beaten.
Mr. Somyos said he tried to beg for his life but the rival protesters would not listen to him, and he was rescued only when a sympathetic anti-government protester intervened and shielded him from the angry crowd.
Another injured man, Mr. Seksan Chamnarnkaew, 38, said he was assaulted by around 10 men at Soi Ramkhamhaeng 53 on the night of 30 November while he made his way to the rally in Rajamangala Stadium. He said his nose has been broken and his eyes injured as a result.
Later in the evening, a number of UDD leaders attended the cremation ceremony of Private Thanasith Viengkam, another Redshirt killed in the Ramkhamhaeng clashes, in On-nut district of Bangkok.
Mr. Wisanu will be cremated on 12 December, and the third deceased Redshirt, Mr. Wiroj Khamnark, on 7 December.
For comments, or corrections to this article please contact: [email protected]
You can also find Khaosod English on Twitter and Facebook
http://twitter.com/KhaosodEnglish
http://www.facebook.com/KhaosodEnglish