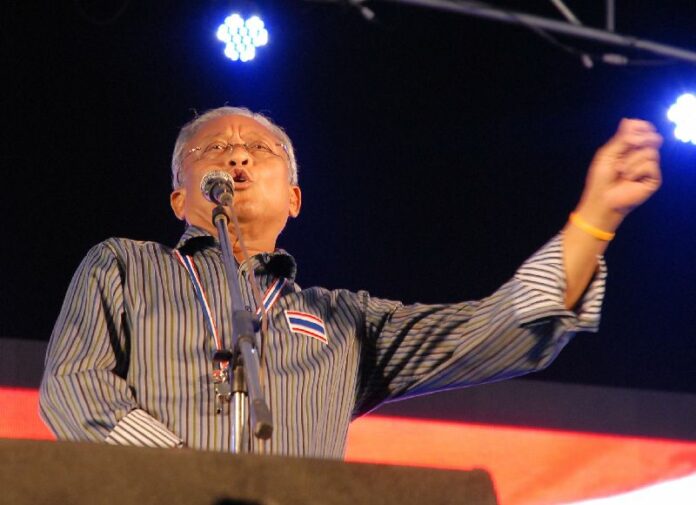 BANGKOK – Leader of the People′s Committee for Absolute Democracy With the King as Head of State (PCAD) Suthep Thaugsuban has revealed preliminary details of his proposal for "People′s Council."
He also warned that he will do everything he can to prevent the next election from taking place unless the government agrees to establish the "People′s Council" as he has demanded.
Mr. Suthep has previously refused to call off his campaign against the government of Prime Minister Yingluck Shinawatra even after Ms. Yingluck had dissolved the House and called new elections, vowing instead to fight on until Thailand is ruled by an unelected "People′s Council" which would transform the nation into an "absolute democracy".
Although he has promised many benefits Thailand would receive under the "People′s Council", such as the eradication of corruption and evil politicians, Mr. Suthep has never explained in-depth details of the council, other than insisting that it would be composed of "virtuous" people.
But in a meeting with representatives of the private sectors earlier today, Mr. Suthep finally shed some lights on his proposal. He told the delegates there would be a total of 400 seats in the People′s Council: 300 selected from "occupation-based" quota and another 100 seats would be given to "experts" selected by the PCAD.
In order to establish the Council, Mr. Suthep told the representatives from 7 organisations, the Prime Minister would have to resign, paving the way for Deputy House Speaker to ask His Majesty the King to appoint a new Prime Minister under Article 7 of the 2007 Constitution, which Mr. Suthep argued allowed the king to exercise his royal power in such manner.
Mr. Suthep did not mention who would be the royally appointed Prime Minister, but he said the premiere would act as a transitional leader, whose duty is to establish the People′s Council.
Mr. Suthep likewise did not name any potential candidate for the People′s Council, but said its members would not be registered to any political party.
He insisted to the delegates that such move will not affect the national economy, since a similar incident has happened in the era of Field Marshal Thanom Kittikachorn.
The PCAD secretary-general also told the private sector representatives that there are two ways the ongoing crisis could end: either the people seize power in a popular revolution, or Ms. Yingluck resigns to allow the activation of Article 7.
"The sooner Ms. Yingluck can resign", Mr. Suthep said, "the faster the nation will return to peace".
When the chairman of Thailand′s Tourism Council asked Mr. Suthep how he would return Thailand to its image as "Land of Smiles," Mr. Suthep replied he would invite all political groups to join his effort to reform Thai politics, including the Redshirts, to display the Thai way of reconciliation to the world.
However, when another representative inquired whether the Redshirts would really be invited, Mr. Suthep conceded that he would welcome all Redshirts except some of their leaders, such as Mr. Wirakan Musikkapong, Mr. Nattawut Saikua, and Mr. Jatupon Prompan.
"We are open to discussion, but we are not open to negotiation. Change must be made before next election," Mr. Suthep told the delegation, declaring that he will never allow the election to take place unless his "reforms" are completed first.
Asked whether he is willing to enter a dialogue with Ms. Yingluck, Mr. Suthep said he had already told Ms. Yingluck they will not meet again, because she had rejected his proposal for the "People′s Council" during one of their previous meetings.
For comments, or corrections to this article please contact: [email protected]
You can also find Khaosod English on Twitter and Facebook
http://twitter.com/KhaosodEnglish
http://www.facebook.com/KhaosodEnglish