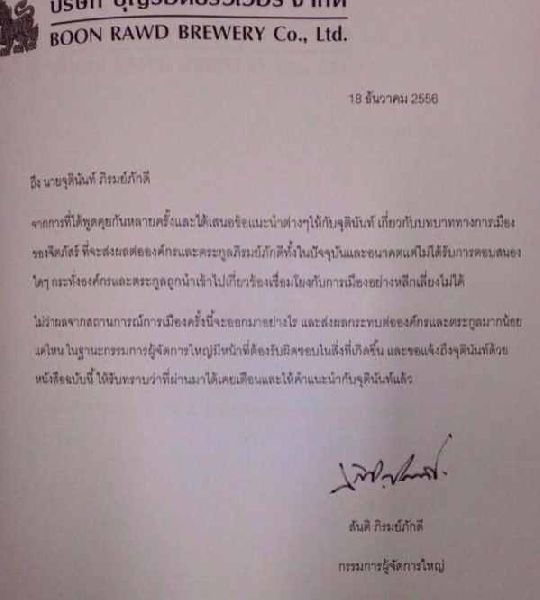 BANGKOK – The executive director of the brewery whose products include Singha Beer has issued a letter criticising one of his relatives for her anti-government activities.
In the letter which was somehow leaked to the media, Mr. Santi Bhirombhakdi, the owner of Boonrawd Brewery, told a fellow executive board member Mr. Chutinant Bhirombhakdi that the actions of his daughter Ms. Chitpas Bhiromphakdi is leading to a negative perception of his company.
Ms. Chitpas Bhirombhakdi is one of the leaders of the People′s Committee for Absolute Democracy With the King As Head of State (PCAD), which has been organising prolonged rallies in Bangkok against the government of Prime Minister Yingluck Shinawatra.
Often described in the media as "Singha Heiress", Ms. Chitpas is a part of the large Bhirombhakdi family.
She has stepped into the limelight recently as an outspoken critic of Ms. Yingluck′s government and the principles of electoral democracy. Ms. Chitpas has been quoted in a number of media reports as saying that she distrusts the concept of "one person, one vote" as it is rigged in favour of the uneducated rural voters.
But in the letter, Mr. Santi reminded Mr. Chutinant that "we have discussed [about it] for many times, and I have given many advises to Chutinant about Chipas' political activities which will affect the organisation and Bhirombhakdi family in present and future,"
The letter continued, "Yet there has been no response [from Mr. Chutinant]. The organisation and Bhirombhakdi are now inevitably tied with political situations".
Mr. Santi also wrote in the letter that as a board member of the company, Mr. Chutinant will be held responsible for whatever outcomes caused by Ms. Chitpas. The letter is intended to state for the record that Mr. Chutinant has been "warned and advised" about the matter for many times already, Mr. Santi wrote.
A senior member of Boonrawd Brewery has confirmed to Khaosod that the letter is genuine.
Earlier today, unidentified assailants have hurled molotov cocktails and bricks at the residence of Ms. Chitpas, police said.
Police said the attacks on Ms. Chitpas' residence occurred at approximately 03.30 this morning, only an hour after Ms. Chitpas returned home.
Security guards at the residence told police that 4 individuals wearing safety helmets rode their motorcycles toward the house, which locates at Soi Ramkhamhaeng 21 in Bangkok, before throwing 4 molotov cocktails and a number of bricks at the residence, then quickly fled the scene.
One vehicle inside the residence has been damaged, police said, with no reported injury.
Police officers believe that the attacks were politically-motivated. They added that the attacks were captured on CCTV and the investigation is ongoing.
For comments, or corrections to this article please contact: [email protected]
You can also find Khaosod English on Twitter and Facebook
http://twitter.com/KhaosodEnglish
http://www.facebook.com/KhaosodEnglish