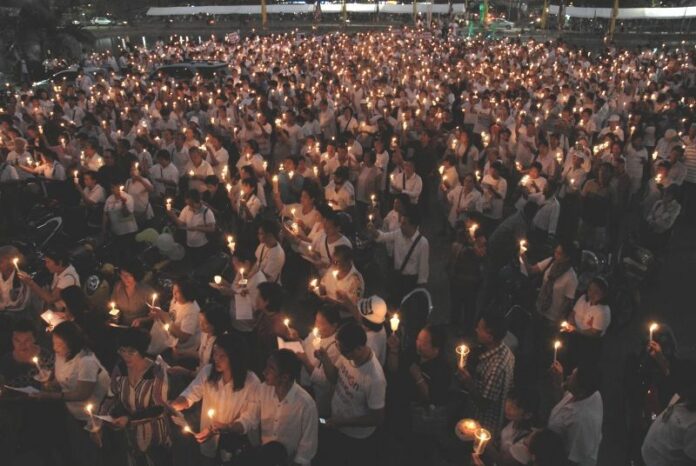 (10 January) Students and members of the public have staged rallies in several universities calling for the general election on 2 February to go ahead.
The campaign has been coordinated by a group of activists and academics on the social network. It calls for ordinary Thais who wish to see a peaceful solution to the crisis in accordance with democratic principles to gather in public places and light their candles.
For many, the campaign is seen as a backlash against the protests led by People's Committee for Absolute Democracy With the King As Head of State (PCAD), which have been calling for Prime Minister Yingluck Shinawatra to resign from her caretaker position and scrap the 2 February election.
PCAD demands that an unelected 'People's Council', whose members will be selected by PCAD, be installed as a transitional government and implement series of reforms to Thai political system before any election can be held. The protest leaders also threatened to "shutdown" Bangkok on 13 January to push for those demands.
The biggest turnout for the pro-election campaign last night was at Kasetsat University in northern Bangkok, where over 300 people, mostly dressed in white, rallied in the campus with their banners and candles.
Many banners read, "Respect My Vote,", referring to an incident earlier this week when a heckler, identified later as Mr. Akachai Auttagorn, interrupted former Prime Minister Abhisit Vejjajiva's speech at an art gallery by holding up a sign "Respect My Vote" and criticized Mr. Abhisit's Democrat Party for boycotting the upcoming election.
The students were joined by a group of local residents in Bang Khen district who arrived with placards supporting the 2 February election and non-violence. Some banners bear messages against the PCAD's plan to "shutdown" Bangkok.
Organisers of the rally also urged the participants to write their thoughts on the current political crisis on small pieces of paper, which were later plastered around the entrance to the university's auditorium.
At 18.15, the participants lit their candles, while the event coordinator, 4th year student Napat Narangsiya read the statement of the group, voicing their opposition to non-violence, unlawful protests, and any attempt to undermine the country's democratic system.
"We the people oppose political express that violates the laws and other people's rights," the statement reads, "We all agree that Thailand has many problems at the moment that need to be solved and reformed, but we believe that those problems can only be remedied under a democratic regime".
The statement also affirms the principles of equal electoral rights and urges all sides to engage in a peaceful dialogue instead of resorting to violence.
After the statement was read, the participants shouted in unison, "Yes to election, no to Suthep's selection!", referring to PCAD leader Suthep Thaugsuban.
Speaking to reporters, Mr. Napat, who is currently enrolled in history program, said he supports the PCAD's call for reforms, "but those reforms should be committed under the laws and Constitution".
He added, "Election is the best way to resolve conflicts, and it is the best way to gauge the people's opinions".
Smaller pro-election events were held in the provinces of Nakhon Phanom and Maha Sarakarm last night, and many groups across the country are planning to organise their own activities in support of the 2 February election today.
For instance, an academic at Chulalongkorn University has called for those who support election and non-violence to gather at the campus where candlelit vigil would be held at 19.20.
Other political and student groups in Chiang Mai, Ubon Ratchathani, and Chiang Rai have likewise vowed to stage similar activities this evening.
Meanwhile, Mr. Akachai, who became an instant celebrity among the pro-government Redshirts and pro-election faction, told our correspondent his Facebook account has been de-activated due to large number of people who "reported" his photos and profile.
Mr. Akachai said the attack on his Facebook account has been engineered by those who intend to silence him.
Nevertheless, he said, before his account became inaccessible he had received "almost 10,000" messages of support from like-minded netizens. Many of his supporters posted photos of themselves wearing sunglasses and holding up "Respect My Vote" signs, mimicking his heckling of former PM Abhisit.
The gesture was also intended to lampoon anti-government critics on social network who had previously accused Mr. Akachai of being an aide of former PM Thaksin Shinawatra – simply because the aide and Mr. Akachai happened to wear the same type of sunglasses.
For comments, or corrections to this article please contact: [email protected]
You can also find Khaosod English on Twitter and Facebook
http://twitter.com/KhaosodEnglish
http://www.facebook.com/KhaosodEnglish