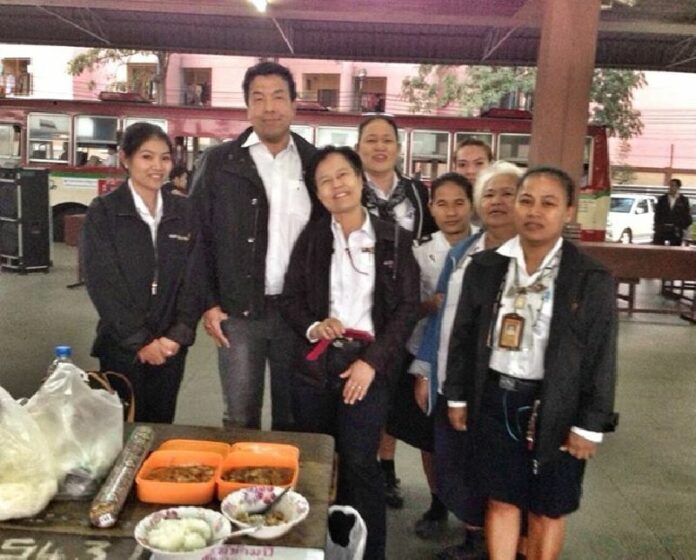 (15 January) Transport Minister Chatchart Sitthipan has responded to the anti-government protesters' threat to detain him with a sense of humour.
Mr. Suthep Thaugsuban, leader of the People′s Committee for Absolute Democracy With the King As Head of State (PCAD), urged the protesters yesterday to "capture" Prime Minister Yingluck Shinawatra and all Ministers of her government.
But Mr. Chatchart said in a Facebook post later that the PCAD protesters should make sure they would not end up arresting his twin brother, Mr. Chanchai Sitthipan.
"The only thing that worries me [about the threat] is that the protesters may be confused and arrest my twin brother instead," Mr. Chatchart wrote, adding that he had instructed his twin brother to shout loudly "This is not Chatchart! This is his twin!" if he was ever detained by the protesters.
"I will use the same trick, too," Mr. Chatchart joked.
The Minister added that he cannot stop the protesters from apprehending him, since he likes to travel on public transportation such as boats and buses to visit many areas.
In the same post, he stated that he had been visiting the northbound train route from Rangsit district to Donmueang district, before stopping at BMTA′s depot this morning.
Bus officers reportedly told Mr. Chatchart that they had experienced a decrease in number of passengers and approximately 30% loss of normal income. They also mentioned that the roads are quite empty due to ongoing PCAD protests in Bangkok.
Mr. Chatchart then visit the offices of Thai Traffic Police to meet Pol.Col. Rueangsak, Deputy Chief of the Royal Thai Police, and Pol.Maj.Gen. Jirasan, Director of Traffic Department.
Mr. Chatchart said he had praised the two police officers for working since early morning in cooperate with the Ministry of Transport to facilitate the traffic needs of people of Bangkok.
"Overall, the traffic is still controllable, even though there are more traffics that yesterday, but less than usual", he wrote on the Facebook post, "The protesters had been marching around to many state agencies … and the officials have been avoiding a confrontation because it will lead to violence".
The Transport Minister also warned Bangkokians to stay alert and plan their journey before leaving their houses, and advised that the parking space provided by the Ministry is still available as an option for those who wish to park their vehicles.
For comments, or corrections to this article please contact: [email protected]
You can also find Khaosod English on Twitter and Facebook
http://twitter.com/KhaosodEnglish
http://www.facebook.com/KhaosodEnglish