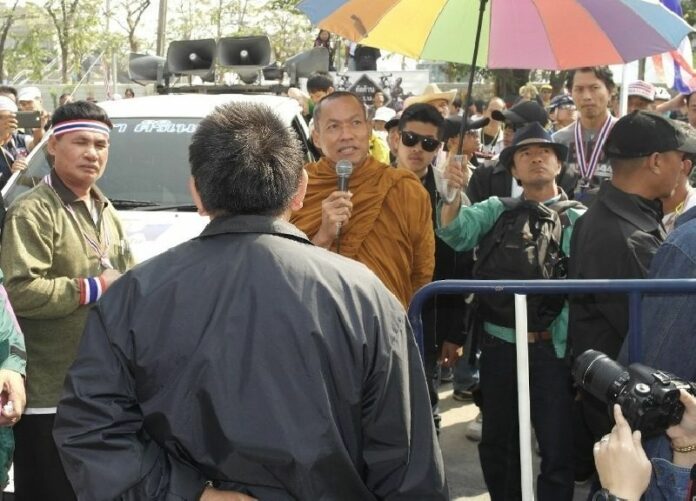 (23 January) Anti-government protesters have alleged that a sniper has taken position in the headquarters of the Division of Special Investigation (DSI).
Luang Phu Buddha Issara, Buddhist monk and a leader of People′s Committee for Absolute Democracy With the King As Head of State (PCAD), led the crowd to DSI building on Chaeng Wattana Road this afternoon and asked the officials to let them "inspect" the office.
According to Luang Phu Buddha Issara, he had noticed suspicious-looking individuals taking up position inside the 11-floor DSI building, and a number of PCAD leaders found that they were targeted by "laser" light. The monk then accused the DSI of deploying snipers to intimidate the protesters.
However, the DSI office′s entrance was firmly locked when the protesters arrived, and a DSI official told the protesters that they must force their way into the office on their own because the DSI would not unlock the gate.
PCAD supporters also refused to force their way into the building, as many feared they might be charged with intruding into state agencies.
DSI officials eventually unlocked the entrance on the condition that the protesters would rally in front of the building in a peaceful manner. Lt.Col. Sitthipon Charoenputh, a high-ranking DSI officer, later met with the protesters and assured them that no sniper, or any armed security forces, was stationed in the headquarters.
Assured by Lt.Col. Sitthipon′s assurance, Luang Phu Buddha Issara led the protesters peacefully back to their rally site in front of Government Complex.
Meanwhile, the number of protesters at Government Complex rally site is markedly small today, our correspondent reported. The atmosphere around the protest campsite became more tense after Luang Phu Buddha announced that he had received reports of an impending police crackdown on the protesters.
PCAD guards also imposed strict security measures around the rally site, such as forbidding vehicles to approach the campsite out of concerns that the protesters might be attacked.
Luang Phu Buddha Issara later said that he has been informed of the DSI pressing insurrection charges and issuing summon warrant against him, but he insisted that he would not meet with DSI officers as requested unless Mr. Tharit Pengdit, chief of the DSI, personally served him the warrant.
"We will guarantee him safety if he does show up," the activist monk said.
For comments, or corrections to this article please contact: [email protected]
You can also find Khaosod English on Twitter and Facebook
http://twitter.com/KhaosodEnglish
http://www.facebook.com/KhaosodEnglish