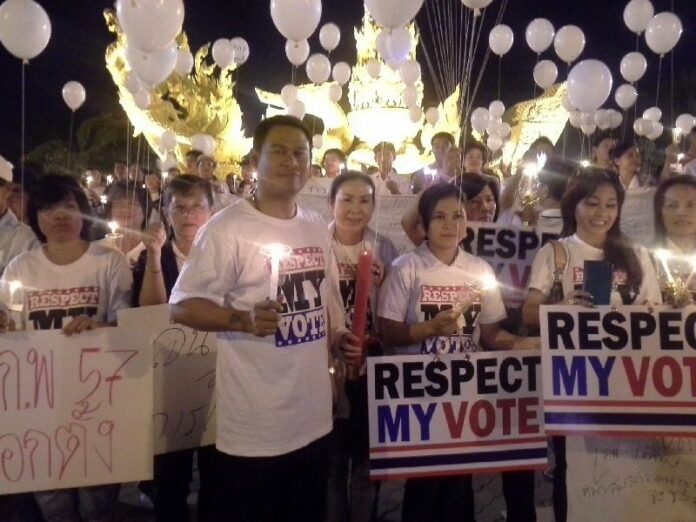 (26 January) Chairman of the Election Commission (EC) has denied the allegation that the EC is conspiring with anti-government protesters to derail 2 February election.
The EC has come under a barrage of criticism after its officials seemingly gave up organising advance voting sessions in many polling stations today almost as soon as anti-government protesters showed up to disrupt the election.
But EC Chaiman Supachai Somcharoen explained that the officials had been instructed to quickly abandon the polling centres in order to avoid violent confrontation.
He cited the clashes around Thai-Japan Stadium in Din Daeng district last month as an example, in which anti-government protesters repeatedly attempted to enter the stadium to disrupt the election registration held there, only to be driven back by riot police. One policeman and one anti-government protesters were shot dead in the clashes.
"We have instructed all officials to avoid confrontation," Mr. Supachai, "If they cannot proceed, they can cease the voting".
Mr. Supachai also claimed that EC officials had no choice but to cancel the voting session in the face of anti-government protesters who besieged their polling stations.
Governmental officials have previously threatened to take legal action against the EC for abandoning their duties, but Mr. Supachai downplayed those threats, stating that he is used to receiving all kind of accusation.
"I believe the court will listen to our reasons, because we have facts to confirm them," Mr. Supachai announced.
Nevertheless, he acknowledged that the public should file legal complaints against anti-government protesters who barred them from exercising their constitutional rights to vote.
The EC Chairman also stressed that the election should be postponed so that the ongoing political crisis can improve, and confirmed that Prime Minister Yingluck Shinawatra has agreed to meet with EC officials on 28 January to discuss poll deferment.
The Constitutional Court has previously ruled that the EC and the government have a joint authority to postpone the 2 February election, but governmental officials said the poll would go ahead as planned.
Mr. Supachai said such confidence might be misplaced, expressing his worry that the 2 February election might not be "transparent or clean as required by the laws". He also worried that the doomed election might end up wasting 1 billion baht of public fund in arrangement costs for nothing.
"Even if it′s clear that the election will take place on 2 February, the Parliament won′t be able to be assembled nevertheless, because the MPs would be less than 95%" of the available seats as required by the laws, Mr. Supachai warned.
For comments, or corrections to this article please contact: [email protected]
You can also find Khaosod English on Twitter and Facebook
http://twitter.com/KhaosodEnglish
http://www.facebook.com/KhaosodEnglish