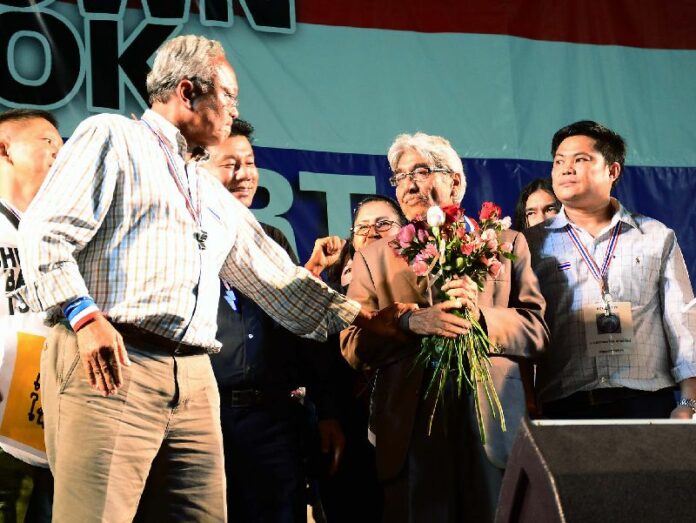 (8 February) The Thai authorities insisted that the effort to deport an Indian anti-government activist is based on the same procedure adopted by former Prime Minister Abhisit Vejjajiva.
The Centre for Maintaing Peace and Order (CMPO) is currently seeking the deportation of Mr. Sathit Segal, a core leader of the People′s Committee for Absolute Democracy With the King As Head of State (PCAD), who previously admitted that he had no Thai citizenship.
Speaking at a press conference, Mr. Tharit Pengdith, Chief of the Division of Special Investigation (DSI) and a spokesman of the CMPO, said the deportation of Mr. Sathit is already approved by the DSI and the Immigration Police.
The issue would be ultimately decided by a commission presided by CMPO Director, Mr. Chalerm Yoobamrung. If Mr. Chalerm agrees with the proposal, Mr. Tharit said, he could sign the order and have Mr. Sathit deported immediately.
With the imposing of the Emergency Decree, Mr. Sathit will not have any chance to appeal his deportation, Mr. Tharit added.
The CMPO spokesman noted that deportation of foreigners who take part in Thai politics under the enactment of the State of Emergency had been enforced before during the administration of former Prime Minister Abhisit Vejjajiva.
In 2010, Mr. Conor Purcell, an Australian Redshirt supporter, was ordered to leave Thailand after he appeared on the stage of the United Front for Democracy Against Dictatorship (UDD) protest, when Bangkok was under the State of Emergency.
Mr. Purcell was deported after he had been detained in a Thai prison for nearly 3 months, during which he claimed he had been attacked by other prisoners.
He arrived in Australia on 8 September 2010, and later expressed his wishes to return to Thailand some day, according to Australian media reports.
For comments, or corrections to this article please contact: [email protected]
You can also find Khaosod English on Twitter and Facebook
http://twitter.com/KhaosodEnglish
http://www.facebook.com/KhaosodEnglish