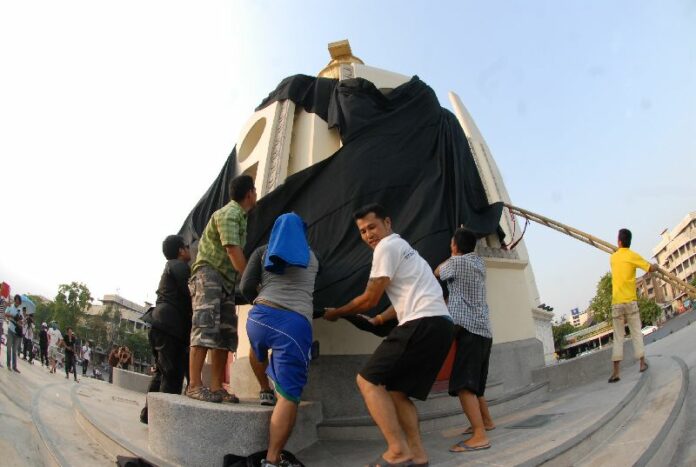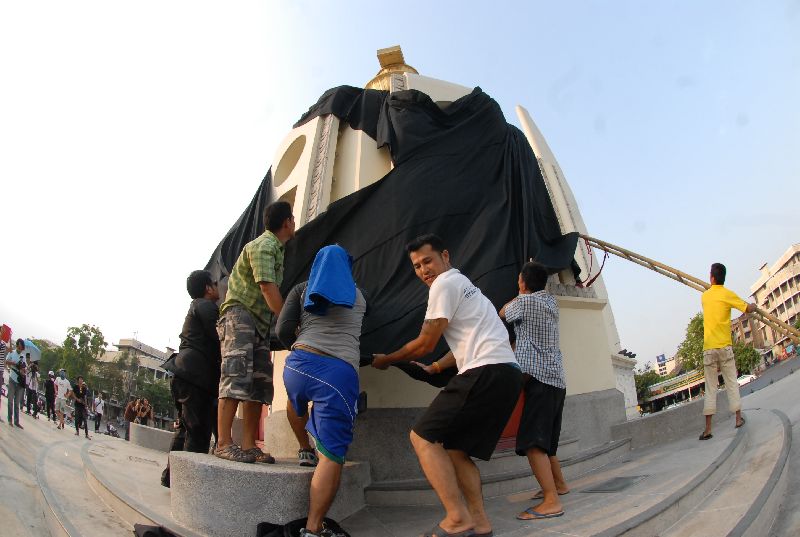 (21 March) Leaders of the Redshirts have threatened to launch widespread protests if Prime Minister Yingluck is ousted by a coup, or replaced with an unelected premier.
"Reporters kept asking me when the Redshirts will enter Bangkok," said Mr. Jatupon Prompan, chairman of the United Front of Democracy Against Dictatorship (UDD).
"Let me just say this," he continued, "the day Thailand loses democracy, either by a military coup or the appointment of the so-called neutral Prime Minister, it would be the 'D-Day' for all Redshrits".
His remark followed a key ruling by the Constitutional Court which voids the result of the 2 February general election, citing the constitutional requirement that the election must be held within a single day, whereas the election in some provinces had been postponed due to anti-government protesters who were blockading poll venues.
Experts fear that the ruling meant Thailand would lack a functioning government in weeks to come, while Mr. Jatupon said it might pave way for a "vacuum of power" in which Ms. Yingluck would be removed by non-governmental agencies, such as the National Anti-Corruption Commission (NACC).
The NACC is currently investigating Ms. Yingluck for her alleged role in corruption related to the rice-pledging scheme; if she is ever indicted, Ms. Yingluck would be forced to cease her duties as a Prime Minister.
Mr. Jatupon also denounced those who have been calling for an appointment of a "neutral Prime Minister" to replace Ms. Yingluck.
"I want Mr. Suthep Thaugsuban to just make it clear who he wants to become the neutral PM," Mr. Jatupon said, referring to the secretary-general of the People's Committee for Absolute Democracy With the King As Head of State (PCAD), "So Thai people can express their feelings to that new PM".
The UDD chairman then went on to warn the military not to launch a coup, as it would lead to massive resistance by the Redshirts.
"Today Gen. Prayuth Chan-Ocha, the Commander-in-Chief of the Army, turns 60 years old," Mr. Jatupon said in the press conference, "I hope he has a happy birthday, and I hope next year Gen. Prayuth will still be able to move around, and not be turned away by the people as a dictator or coup maker".
Meanwhile, Ms. Thida Thavornseth, another core leader of the UDD, called the NACC's pursuing of corruption charge against Ms. Yingluck "a farce", arguing that the investigation is a facade for an attempt to create legal vacuum and replace her with an appointed leader.
Our correspondent added that the first show of strength of the Redshirts following the Constitutional Court's verdict is scheduled to take place tomorrow in Chonburi province, where UDD supporters from various provinces will arrive in the evening in motorised convoys.
Nevertheless, some Redshirts and other pro-election demonstrators have already held a brief rally to voice their disagreement with the Constitutional Court in Chiang Mai province today, while dozens of pro-election protesters similarly rallied at Benchasiri Park in downtown Bangkok, calling on the establishment to "respect my votes".
Another group of activists also covered the Democracy Monument in Bangkok with enormous black cloths this afternoon to symbolise what they call "a dark day for democracy" in Thailand.