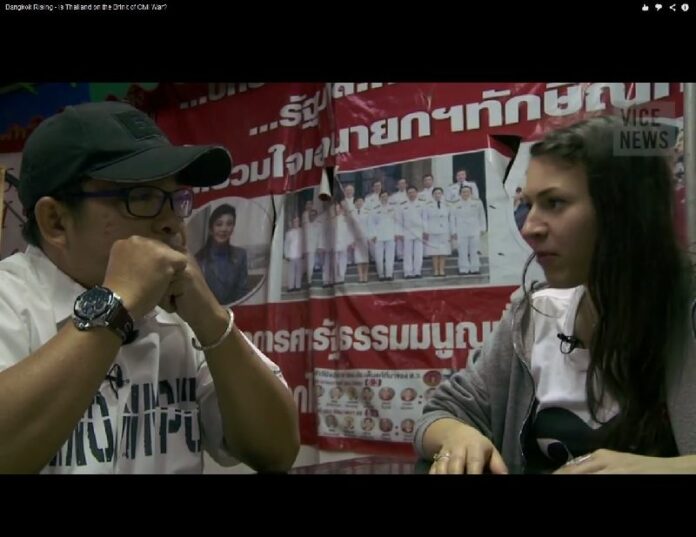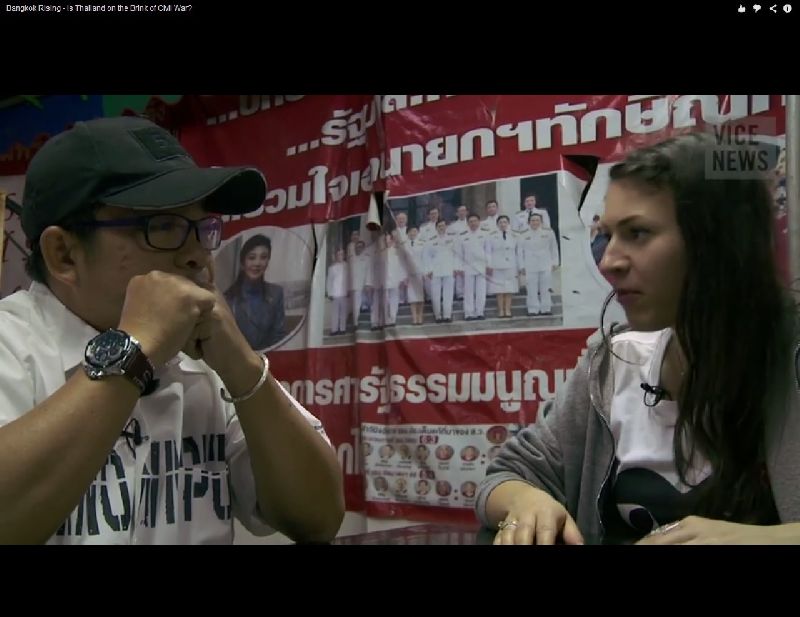 (10 April) A group of royalist activists have urged the police to take legal action against a Redshirt leader for allegedly defaming the monarchy in an interview with Vice News.
The activists also demanded that authorities investigate any possible links between the Canada-based news agency and former Prime Minister Thaksin Shinawatra.
Mr. Wuttipong Kochthammakul, the leader of a "hardcore" Redshirt faction in Nonthaburi province, found himself in hot water after the video of a Vice News interview surfaced earlier this week showing him speak about His Majesty the King in a negative way.
Cries for Mr. Wuttipong, who is also known by his nickname Ko Tee, to be prosecuted under the Thai lese majeste (insult of the monarchy) laws went up almost immediately from the ranks of anti-government critics, who have long viewed the government of Prime Minister Yingluck Shinawatra and her allies as anti-monarchy republicans.
The government has attempted to distance itself from Ko Tee's remarks, while Ms. Yingluck herself reportedly instructed the police to investigate and prosecute the activist for his offensive remark.
Insults of the Thai Royal Family are punishable by up to 15 years in prison per offence.
Today a group of royalists under the name Citizens Volunteer For Defence Of Three Institutes Network met with police officers at the Crime Suppression Division HQ in Bangkok to file charges of violating Article 112 of the Thai Criminal Code against Ko Tee. The group brought a DVD copy of the Vice News interview as evidence.
Their leader, Mr. Baworn Yasinthorn, told reporters that Mr. Wuttipong has clearly violated Article 112, which prohibits any remarks deemed offensive to the monarchy, in the interview, and that he could no longer stand idly by. "So, we are here to press charges," Mr. Baworn spoke of his supporters.
Furthermore, Mr. Baworn asked the police to investigate whether Vice News is related to Mr. Roberts Amsterdam, a Canada-born lawyer and lobbyist hired by the former Prime Minister, who is also facing a separate lese majeste charge filed by an anti-government activist on Monday.
A quick Wikipedia research by Khaosod correspondent fails to uncover any published evidence of the suspected connection.
Mr. Baworn also expressed his concern over Ko Tee's threat in the interview that his supporters have been hoarding weapons and training for combat in the event of a civil war.
For comments, or corrections to this article please contact: [email protected]
You can also find Khaosod English on Twitter and Facebook
http://twitter.com/KhaosodEnglish
http://www.facebook.com/KhaosodEnglish