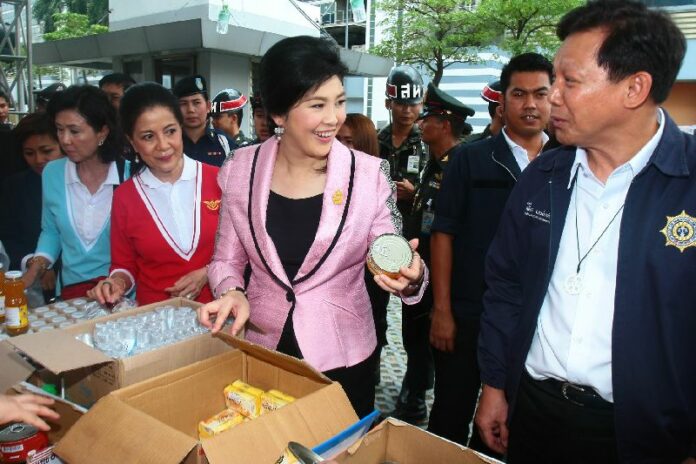 BANGKOK — The general election on 20 July will go ahead even if Prime Minister Yingluck Shinawatra is removed by the court, an Election Commissioner confirms.
Ms. Yingluck is facing charges of unlawfully removing a former head of the National Security Council. The Constitutional Court is expected release a verdict this month, and if found guilty, Ms. Yingluck and her Cabinet members could be stripped of their caretaker positions.
Supporters of the government have expressed concern that a guilty verdict will result in a political vacuum that could disrupt plans for the new general election, scheduled by the Election Commission to take place on 20 July. The previous general election on 2 February was invalidated by the Constitutional Court because the poll's voting session and candidate registration were not conducted on the same day across the kingdom.
But Election Commissioner Somchai Srisutthiyakorn told reporters today even if the court rules to remove Ms. Yingluck from office, the 20 July election will not be affected.
"Many political factors will take place in May, especially the Constitutional Court's ruling on Ms. Yingluck's status as a Prime Minister," Mr. Somchai said. "But it won't affect the election arrangement, because any other caretaker Prime Minister or Government can submit the [election date] to the King for his royal approval."
Mr. Somchai said that he will present a draft of the Royal Decree that paves the legal way for the next election to the current caretaker Cabinet by 6 May.
He believes it won't take much time for the government to consider the wording of the Royal Decree and submit it to His Majesty the King for final approval.
Mr. Somchai refused to comment on reports that Democrat Party chairman Abhisit Vejjajiva will unveil his "blueprint" of political reforms for Thailand tomorrow (3 May), stating that reporters should ask the government and the public for their opinions on the issues instead of the EC.
Nevertheless, Mr. Somchai said the EC is willing to participate in the "blueprints" and postpone the election accordingly if the government agrees to Mr. Abhisit's plan.
"It's up to the government, because the EC will not comment on the matter," Mr. Somchai said. "We would like to be the last person to make decision."
Although the Constitutional Court has not appointed the date for the verdict, many analysts expect the ruling to be due in early May.
The speculation grows even more intense after the Office Constitutional Court announced today that the court's conference with reporters between 7-9 May in Krabi province has been "indefitinely postponed".
The court officials gave no reason for the postponement, a source said, causing many observers to suspect that the verdict will be delivered within that period.
Related Story: Yingluck Accepts 20 July Election Deals
For comments, or corrections to this article please contact: [email protected]
You can also find Khaosod English on Twitter and Facebook
http://twitter.com/KhaosodEnglish
http://www.facebook.com/KhaosodEnglish