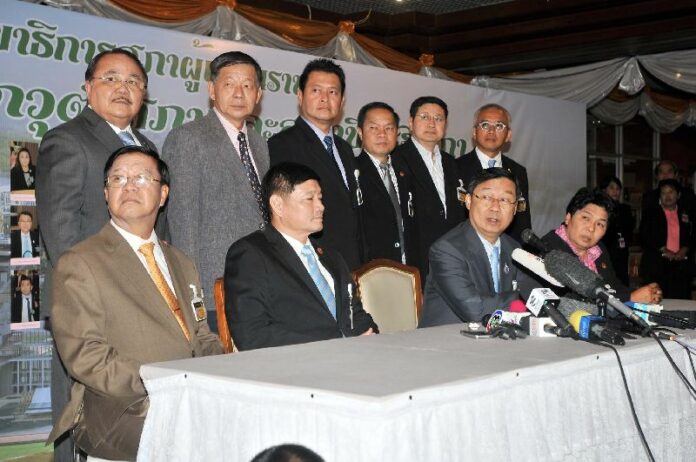 BANGKOK — Senate Speaker Surachai Liengboonlertchai has said that the government must present a "new solution" in order to avoid the appointment of an unelected Prime Minister by the Senate.
Anti-government protesters have demanded the Senate replace caretaker Prime Minister Niwatthamrong Boonsongphaisarn with a royally-approved unelected PM. While a number of Senators and anti-government activists claim the move is legal under Article 7 of the 2007 Constitution, governmental officials and numerous experts have dismissed the plan as unconstitutional.
Mr. Surachai has not yet called a Senate meeting to deliberate on the invocation of Article 7 as anti-government protesters have requested, but he said in a press conference today that Article 7 might be invoked if the government does not present its own solution to the ongoing political crisis.
"If they don't want to see the invocation of Article 7 of the Constitution, then they should present a solution," Mr. Surachai said, referring to the caretaker government. "Or if any agency or organisation can give us confidence that they can lead the country to normalcy, the Senate will be willing to quit this quest."
Mr. Surachai's comments appear to ignore that the caretaker government has consistently offered elections as a solution for resolving the country's protracted political crisis.
Mr. Surachai added, "Let me stress that the Senate has not agreed on any particular solution. Please don't distort the facts and claim that we are on this side or that side. We were only meeting for the first day, but a certain political party has said they will press charge on the Senators for supporting the insurrection. Please stop this kind of discouraging behaviour."
Mr. Surachai insisted that the Senate is open to "all suggestions," and said that the final solution adopted by the Senate will be based on "national interests."
The Senate convened a second day of informal meetings today to debate measures for steering the country out of its political stalemate. It also invited representatives from the government to attend the session and consult with the Senators, but PM Niwatthamrong declined the invitation, citing his busy schedule, Mr. Surachai said.
Read More:
Redshirts Warn Senate Not To Invoke Article 7
Editorial: Stop Invoking Article 7 — And Get Rid Of It Too
For comments, or corrections to this article please contact: [email protected]
You can also find Khaosod English on Twitter and Facebook
http://twitter.com/KhaosodEnglish
http://www.facebook.com/KhaosodEnglish