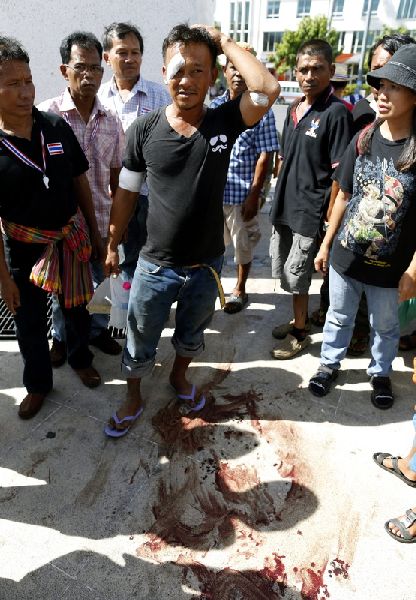 By Somchai Kwankijswet and Peter Janssen (DPA)
BANGKOK — Anti-government protesters Thursday disrupted efforts to schedule a new general election for Thailand, which has been without a parliament for the past six months, reports said.
Thousands of protesters broke into the Royal Thai Air Force Academy in northern Bangkok, despite riot police guarding the compound, Blue Sky TV reported.
The forced entry prompted the swift departure of Election Commission officials and caretaker Prime Minister Niwattumrong Boonsongpaisan, who had been scheduled to discuss the date for a fresh election.
"I was coming here to talk with them about the political situation, but when they heard we were coming they ran away," said Suthep Thaugsuban, leader of the People's Democratic Reform Committee (PDRC) protest movement.
After disrupting the talks, protest leaders met commission executives at their headquarters argue against holding an election soon.
The PDRC wants the Senate to appoint a prime minister who would set up an interim government to push through political reforms aimed at ridding Thailand's political system of corruption and vote-buying.
"I can accept an election if the Election Commission can guarantee that it will not be contested by political parties owned by capitalists instead of by the people," Suthep told the commission.
Election Commission Chairman Suphachai Somcharoen suggested that the election be postponed by three months, giving the commission time to amend some electoral regulations.
But the commission refused to condone Suthep's proposal to legislate political reforms before the polls without an elected parliament in place.
"Now there is no parliament, and making laws is the duty of parliament," Suphachai said.
Niwattumrong, who became caretaker prime minister on May 7 after the Constitutional Court sacked his predecessor Yingluck Shinawatra, and members of his ruling Pheu Thai Party had wanted a fresh general election to be held on July 20.
Yingluck dissolved parliament on December 9, in the face of mounting protests against her government.
A snap election was held on February 2, but its outcome was annulled by a court ruling after widespread disruption by anti-government protesters.
Although the protests have been generally peaceful, they have been marred by occasional acts of violence.
Early Thursday, unidentified assailants in a pickup truck opened fire with M16 rifles on protesters camped near Democracy Monument in western Bangkok about 3:00 am (2000 GMT Wednesday), killing two guards and a male demonstrator, the Erawan Emergency Centre said.
Another 18 people were injured, the centre said.
In a second attack, an M79 grenade was thrown at the protesters' street camp, injuring two more people, the centre said.
"They are attacking our people with war weapons … yet the authorities don't care and have done nothing," said PDRC spokesman Akanat Promphan.
At least 25 people have died in protest-related violence since the end of November.