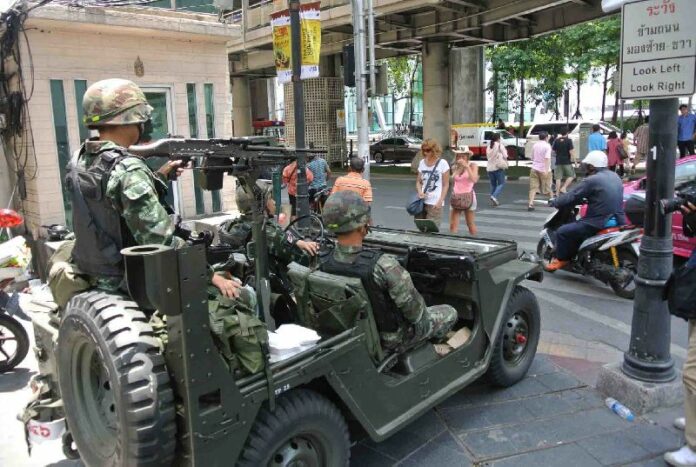 BANGKOK — In a political development that came as a surprise to many on Tuesday, the Thai army announced at 3am that the country is now under martial law.
Thailand's martial law was written in 1914, before the country was a constitutional monarchy. It grants the military extensive powers — including "superior power over the civil authority" in order to maintain public order — and also curbs a number of human rights.
Under the century-old piece of legislation, the military is now authorized to:
Search any "body vehicle, dwelling place, building or any place and at any time." [Section 9:1].

Inspect any letter, package, printed matter "or other things transmitting within the area under the Martial Law" [Section 9:2].

"Force labor for supporting military service in all respects" and demand from any person "any conveyance, beast of burden, provisions, arm, instrument and tool for use in military service" [Section 10].

Impose a curfew, prohibit any meeting or assembly, control transportation in any public area, and "prohibit any person from conducting any act or having any prohibited undertaking or thing as determined by the Minister of Defense during the period of the Martial Law" [Section 11].

Prohibit dissemination of any printed material and television or radio broadcast [Section 11].

"Burn any house or thing which may be useful to the enemy" and "alter the nature of the country or village … for the purpose of fight or preparation for the defense at the discretion of the military authority" [Section 14].

Detain for inquiry any person that the military has "reasonable ground to suspect" is the "enemy or violates the provisions of this Act" [Section 15].
In addition, the law bars people from claiming any compensation for any damages that result from the exercise of these powers [Section 16].
The sweeping powers granted to the military under martial law are significantly more far-reaching than the authority enjoyed by the government under the Internal Security Act, which was previously in place.
As a result, the army's move has already come under harsh criticism from groups like Human Rights Watch.
"Thailand is using a century old law with draconian provisions that permit the military to exercise essentially unlimited authority to violate human rights if they are so inclined," said Brad Adams, the Director of HRW's Asia Division.
"It's a law that pre-dates the creation of all international human rights standards, and it shows," Mr. Adams said.
The military has already begun excerising some of its new powers. This morning, the army's newly-formed peace-keeping operation, the Peace and Order Maintaining Command (POMC), shut down ten politically-affiliated TV stations in order to prevent the dissemination of "misleading" information that could cause "confusion" and unrest.
The POMC also ordered that all unlicensed community radio stations, which are often operated by hardline Redshirt activists, be taken off the air.
In addition, troops have been deployed to oversee both anti-government and Redshirt rally sites, with orders to prohibit activists from marching anywhere.
Government officials say they were not informed of the army's plan to announce martial law until it was declared on television at 3:00 a.m. this morning.
The army has insisted that they have not staged a coup. If that proves to be true, this would be the first time in Thailand's history that a nationwide declaration of martial law has not been followed by a military coup d'état.
UPDATE: The military launched a coup on 22 May.
For comments, or corrections to this article please contact:[email protected]
You can also find Khaosod English on Twitter and Facebook
http://twitter.com/KhaosodEnglish
http://www.facebook.com/KhaosodEnglish