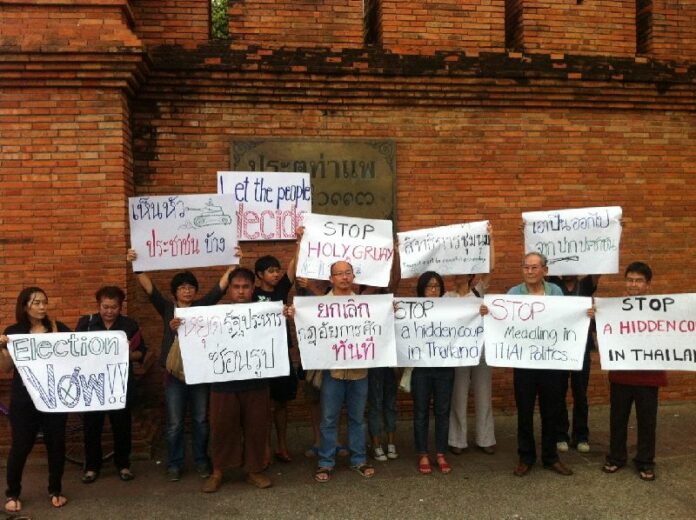 BANGKOK — Various human right groups have slammed the Royal Thai Army's unilateral declaration of martial law, with one prominent right organisation calling the move a "de facto coup."
"Thailand's friends in the world's capitals should make it clear that they expect this de facto coup to be reversed immediately," Human Rights Watch (HRW) Asia director Brad Adams said in a statement.
Thailand's military unexpectedly declared martial law at 3:00 am this morning, without consulting the caretaker government.
The military is granted a wide range of powers under martial law, including the authority to censor the media, search and detain suspects without warrants, and "burn any house or thing which may be useful to the enemy."
In the first 24 hours of martial rule, the military has already gone after politicized news outlets, forcing ten TV channels and numerous community radio stations to go off the air.
"Censorship and shutting down of both anti-government and pro-government satellite TV channels and radio networks raises serious concerns that freedom of expression will be the first victim of the de facto coup," Mr. Adams of HRW said.
The martial law invoked today was written in 1914, when Thailand was still governed by an absolute monarchy.
"It's a law that pre-dates the creation of all international human rights standards, and it shows," Mr Adams added.
The Asian Human Rights Commission (AHRC) said "General Prayuth's statement is at best, misguided, and at worst, facetious," referring to army commander-in-chief Gen. Prayuth Chan-ocha's advice that the public should refrain from panicking and carry on with their lives as normal.
"There is nothing normal about martial law, nor the conditions of political and legal life that it creates," the AHRC said. "Martial law is a grave threat to human rights."
The AHRC also called on Gen. Prayuth to provide a clear justification for why martial law has been imposed, or else revoke the law immediately.
The Assembly for Defence of Democracy (AFDD), a group of Thai political scientists and law academics, also criticised the army's move, insisting that it will only worsen the political conflict in Thailand.
The AFDD urged the government of caretaker Prime Minister Niwatthamrong Boonsongphaisarn to seek Royal Approval from His Majesty the King to repeal the martial law if the military violates protesters' rights of peaceful political expression.
"The military's only duty is to maintain peace and order of the country, namely by cooperating with the caretaker government and the Election Commission to organise the general election in timely manner," the AFDD said.
Despite the military's new authority to ban political gatherings, hundreds of protesters gathered this evening in front of the Bangkok Art and Cultural Centre (BACC) to voice their opposition to the declaration of martial law. Other smaller gatherings were held in Chiang Mai and Ubon Ratchatani provinces.
For comments, or corrections to this article please contact: [email protected]
You can also find Khaosod English on Twitter and Facebook
http://twitter.com/KhaosodEnglish
http://www.facebook.com/KhaosodEnglish