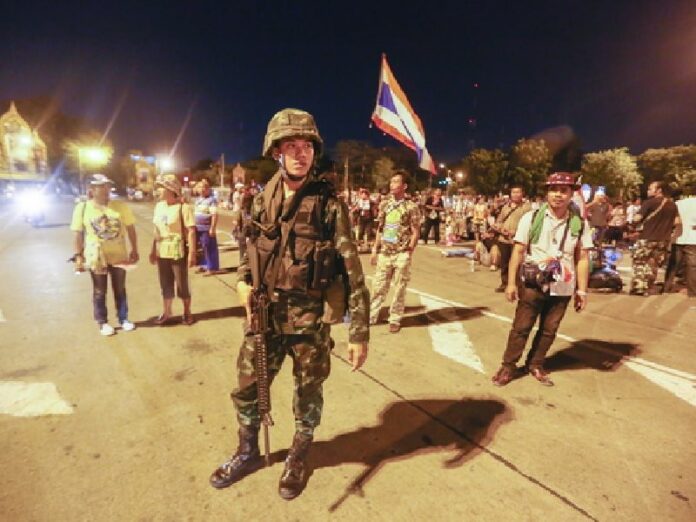 By Peter Janssen (DPA)
BANGKOK —Thailand's ruling junta Friday summoned a score of leading politicians attached to the former government, which was ousted by a military coup.
The streets of the capital Bangkok were calm, with most public transport operating as normal on the first morning since the coup was announced by army chief General Prayuth Chan-ocha.
The country has been under martial law since early Tuesday.
The military's National Peace and Order Maintenance Council (NPOMC), in an early-morning television broadcast, summoned 23 politicians to come to its headquarters immediately, without providing an explanation for the order.
Among those summoned were former prime minister Yingluck Shinawatra, who was dismissed from her post earlier this month by a constitutional court ruling, former prime minister and Yingluck's step-brother, Somchai Wongsawat, and her sister Yaowapa, who is Somchai's wife.
On Thursday, shortly after seizing power, the council called on Niwattumrong Boonsongpaisan, Thailand's last premier, to turn himself in along with cabinet members, but he never did, said NPOMC spokesman Colonel Winchai Suwaree.
Anti-government protesters had sought to topple the former Pheu Thai party government, backed by former prime minister Thaksin Shinawatra, during months of protests in the capital.
Thailand's last coup in 2006 ousted Thaksin – a deeply divisive figure who has been living in self-exile since mid-2008 – and led to about a year of rule by a military-appointed administration.
Australia's Foreign Minister Julie Bishop said Friday that she was "gravely concerned" about the military coup in Thailand.
"It is a volatile situation," Bishop told national radio.
The United Nations, United States, and the EU Thursday called for a swift return to civilian rule.