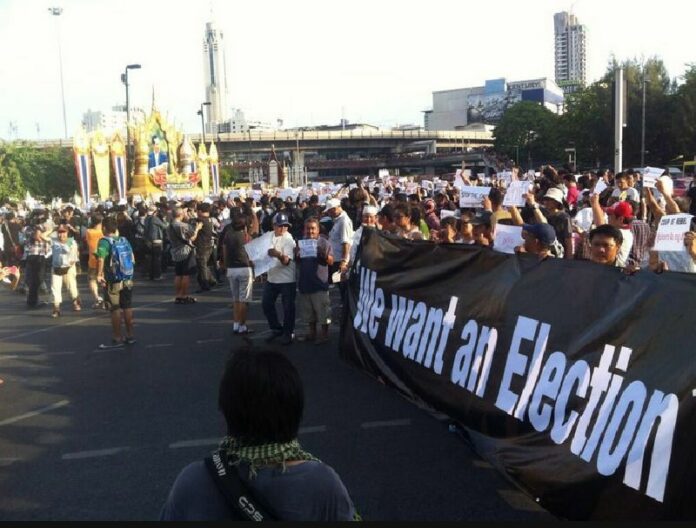 BANGKOK — Hundreds of anti-coup protesters demonstrated in Bangkok for a second day of public protest against the military coup d'etat, despite the military junta's ban on public gatherings of more than five people.
Earlier in the day, at least 150 demonstrators gathered in front of Major Cineplex shopping mall on Phahonyothin Road. The protesters, who held placards condemning the coup, repeatedly shouted "Ai Ley Org Pai!" ("Cross-eyed, get out!") in reference to coup-leaer Gen. Prayuth Chan-ocha, who is said to be cross-eyed.
"I am frustrated, I can't stand this," said a 33-year-old protester who declined to be identified by name. "Why should I bow down to this lawless power who is using guns to threaten people?"
Although the protest was largely peaceful, commotion broke out when a prominent royalist activist, who has previously filed a lese majeste charge against a student activist, was spotted near the soldiers. The crowd rushed to surround Ponnipa Supatnukul, which prompted soldiers to hail a public minivan and whisk her away.
At around 3 pm the protesters attempted to march down Phahonyothin Road to join other protesters at Victory Monument, but were stopped by rows of soldiers and riot police near Soi Phahonyothin.
Minor clashes broke out, and several protesters were detained but later released by the military after a shoving match and more fistfights. Meanwhile, soldiers took a visibly more aggressive stance toward reporters, asking some journalists not to take photos.
When it was clear that the soldiers would not yield, protesters changed their plan and took the Skytrain to Victory Monument, where hundreds of other protesters awaited them with huge banners, placards, and paper signs denouncing the coup and demanding an immediate return to a civilian administration.
The protesters initially occupied the elevated Skywalk surrounding Victory Monument, but as the crowd grew the demonstrators took to the road and marched clockwise around the iconic monument.
Dozens of soldiers were stationed near the monument but a large group of protesters later chased them away, forcing soldiers to take positions around the elevated skywalk and the nearby Skytrain station. Many of the soldiers were armed with automatic rifles, but they did not attempt to disperse the protesters.
The protest was initially scheduled to end at 6 pm, but many protesters remained in the area as the sun began to set.
The situation became increasingly tense after sundown, especially when one protester – understood to be one of the event's organisers – was taken away by the military. An enraged crowd followed, streaming onto Phaholyothin Road, and the group of soldiers who arrested the activist were eventually outnumbered and forced to release the suspect.
Several other protesters were also reportedly arrested. Reports indicate that some soldiers behaved aggressively toward the demonstrators and attempted to detain those who held protest signs.
It is not clear who has been organising the mass protests, but the location of the rally was announced on an anti-coup Facebook page.
Another smaller protest was held in front of the Bangkok Art Cultural Centre today, which was the location of a similar protest yesterday. At least one protester was detained by security forces.
For comments, or corrections to this article please contact:[email protected]
You can also find Khaosod English on Twitter and Facebook
http://twitter.com/KhaosodEnglish
http://www.facebook.com/KhaosodEnglish