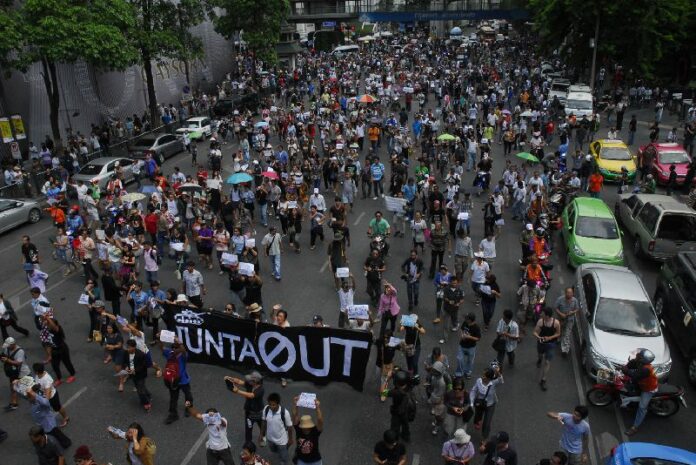 BANGKOK — Thailand's military government has issued several contradicting explanations behind the temporary blockage of Facebook for millions of Thais on Wednesday.
Many Thais took to other social media platforms, such as Twitter and Instagram, to express their shock and outrage when they realised they could no longer access their Facebook accounts at around 3 pm today. The hashtag "#facebookdown" started "trending" on Twitter in a matter of minutes.
The hour-long suspension of the social media site came a day after Thailand's military government, the National Council of Peace and Order (NCPO), announced plans to intensify online censorship, causing many to believe the junta was behind the shutdown.
This suspicion was initially confirmed by a permanent secretary of the Information and Communications Technology Ministry (ICT), who told Reuters that the government had "blocked Facebook temporarily," and was planning to "call a meeting with other social media, like Twitter and Instagram, to ask for cooperation from them."
"Right now there's a campaign to ask for people to stage protests against the army," Reuters quoted the permanent secretary, Surachai Srisaracam, as saying. "So we need to ask for cooperation from social media to help us stop the spread of critical messages about the coup."
Spring News TV also reported that Mr. Surachai said the NCPO had "asked" ISPs in Thailand to shut down Facebook as part of the military's ongoing effort to quash dissent.
However, an hour after Facebook's access was first cut off, Mr. Surachai changed his story. Mr. Surachai told reporters in a press conference that the temporary blockage was actually the result of a technical glitch, not an order from the NCPO to shut it down. He said that the site was inaccessible because Thailand's "internet gateway" had temporarily failed due to a spike in users' activity. Mr Surachi blamed the Spring News TV reporter's "misunderstanding" for the earlier report.
The article was later pulled out from Spring News TV's website.
In an urgent televised announcement, NCPO spokesperson Col. Winthai Suwaree also stressed that the "gateway," and not the NCPO, was to blame for the disruption of Facebook. He said the ICT has been contacted to fix the issue immediately.
Facebook was eventually restored for most users by 5 pm. Nevertheless, many people continue to express suspicions that the NCPO was responsible for the mysterious shutdown.The anti-coup protests that have been popping up on a daily basis in Bangkok have been largely organised through Facebook, and the military has repeatedly warned Thais against posting "inciting" messages on social media, threatening transgressors with prosecution.
Pattharaphon Tanngam, a reporter of state-owned Thai PBS station, later claimed on her Twitter account that sources inside the ICT told her they were ordered by the NCPO to shut down Facebook for "1-2 hours" to test the public's reaction.
After the public reacted with widespread anger, the ICT decided to restore access to Facebook, Ms. Pattharaphon said, quoting anonymous sources.
Thai's use of social media has been rapidly increasing in past years. According to one estimate in 2012, Bangkok was ranked as the city with most Facebook users in the world with its over 8 million users.
For comments, or corrections to this article please contact:[email protected]
You can also find Khaosod English on Twitter and Facebook
http://twitter.com/KhaosodEnglish
http://www.facebook.com/KhaosodEnglish