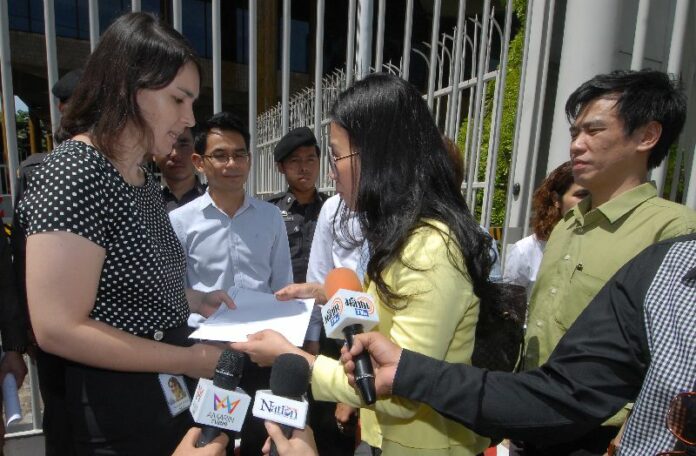 BANGKOK — A group of pro-coup Thais have urged the Australian government to reconsider its recent downgrade of relations between Thailand and Australia in response to the Thai military's coup d'etat.
Thai alumni from Melbourne University gathered in front of the Australian Embassy in Bangkok earlier today and submitted a letter to the Australian government protesting the country's criticism of the coup d'etat. A secretary of the Australian Ambassador to Thailand accepted the letter on the embassy's behalf.
Australia is among the western countries that have harshly criticised Thai Army's 22 May coup. Following the military takeover, Australian authorities announced a suspension of cooperation between the two nations' armed forces and placed travel bans on coupmakers.
"The Australian government should understand the situation in Thailand," said Ms. Pontip Assadathorn, a leader of the alumni group. "The NCPO's takeover may not be accepted by the international community, but it helps prevent bloodshed. Plus, [international] financial institutions did not downgrade Thailand's credibility."
Ms. Pontip said that ever since Australia publicly denounced the coup and downscaled its relations with Thailand, fewer Australian tourists have come to Thailand and Thai schools have struggled to find Australian teachers to teach English classes.
Ms. Pontip said she has been reassured by the embassy secretary that the Australian Ambassador will be informed about the group's demands.
A group of Thai alumni from American universities staged a similar protest against the US government's criticism of the Thai coup and its decision to suspend aid to the Thai military.
"It is time for the US Department of State to treat allies of the US in equal status, not as colonies of the US," said 'Khun Ying' Songsuda Yodmanee, chairwoman of Thailand's American University Alumni Association (AUAA) on 4 June. "Thailand has never been colonised by anyone, and we will continue to maintain our independence and liberty."