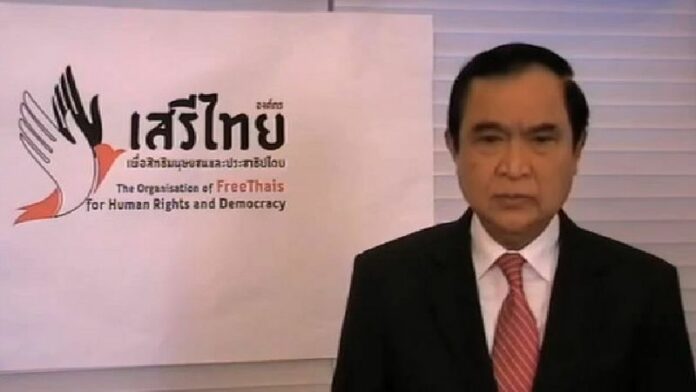 BANGKOK — The ruling party of the former government has denied any link with the anti-coup organisation founded in exile by its former leader, Jarupong Ruangsuwan.
"It's just a personal opinion," said Chawalit Witchayasutthi, deputy secretary-general of Pheu Thai Party. "We respect Mr. Jarupong's ideas and ideologies, but the Pheu Thai Party must stay under the framework of rules and laws."
Mr. Jarupong, the leader of the Pheu Thai Party until the 22 May coup, announced the formation of an anti-coup group on 24 June, coinciding with 82nd anniversary of the 1932 Revolution that replaced Thailand's absolute monarchy with a constitutional democracy.
Mr. Jarupong unveiled the group, called The Organization of Free Thais for Human Rights and Democracy (FTHD), in a video published on social media. Another video showed former minister and prominent activist Jakrapob Penkair reading the group's founding statement in English. Both leaders are thought to be currently residing in Cambodia.
The FTHD has not yet outlined how it will campaign against the Thai military junta, and it remains unclear how influential the group will be in organizing resistance among Redshirts, the Northern-based populist group allied to the Pheu Thai party.
The Redshirt's umbrella organisation, the United Front of Democracy Against Dictatorship (UDD), has not lent its support to Mr. Jarupong's group.
Mr. Chawalit, the deputy secretary of Pheu Thai Party, insisted yesterday that no high-ranking party members will oppose the military junta in any way.
"We won't do anything that will affect the peace of the country, to allow the NCPO to proceed with its road map to return democracy to Thailand," Mr. Chawalit told reporters, referring to the military junta's National Council for Peace and Order (NCPO). "We want to be a part of the process to return democracy to Thailand.
Col. Weerachon Sukondhapatipak, a spokesperson of the NCPO, said today that Thai people should judge for themselves whether they support the movement founded by Mr. Jakrapob and Mr. Jarupong.
"They don't have to think of the NCPO or the military. Please think of the entire population of Thailand," Col. Weerachon said. "They should weigh who is more important, the pair [Mr. Jakrapob and Mr. Jarupong] or the entire Thai people."
Col. Weerachon added that he believes both former politicians are still residing in foreign countries, and that the Ministry of Foreign Affairs will use its diplomatic channels to seek legal prosecution against the FTHD founders.
Mr. Jakrapob fled to Cambodia in 2009 after he was accused by conservative politicians of insulting the Thai Royal Family, while Mr. Jarupong is understood to have left the country soon after the 22 May coup.
For comments, or corrections to this article please contact: [email protected]
You can also find Khaosod English on Twitter and Facebook
http://twitter.com/KhaosodEnglish
http://www.facebook.com/KhaosodEnglish