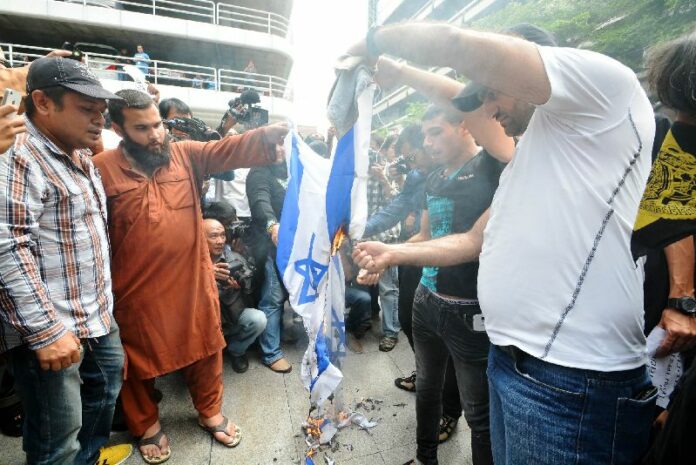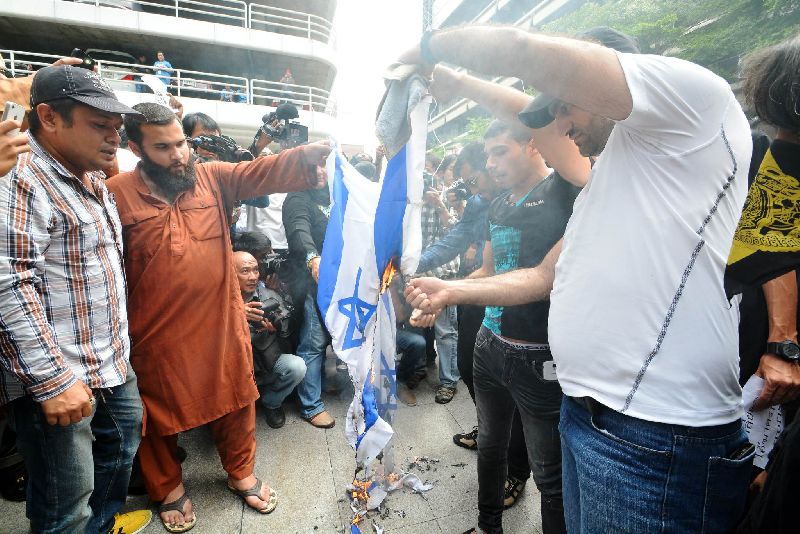 BANGKOK — Protesters rallied in front of the Israel Embassy in Bangkok today to voice their anger over Israeli air strikes in Gaza, despite the Thai military junta's ban on public gatherings.
The activists, many of whom were Muslim, held up signs denouncing Israel's operations in the Gaza Strip and burned Israel's national flag.
"Jews is terrorists [sic]" one placard read. "I hate Jews. They are murderers," proclaimed another.
Some protesters also distributed stickers reading, "There is no God but Allah, Muhammad is the messenger of God."
Yet another sign read, "You don't need to be Muslim to stand up for Gaza. You just need to human."
One of the demonstrators, who did not give his name, said the protest was meant to show solidarity with Palestinians living in the Gaza Strip.
"I want everyone to understand the plight of Palestinians," the activist said. "Because what has happened is unbearably violent. It has no shed of humanitarian concern. Palestinians are the victims of international politics."
Almost 200 Palestinians have been killed since Israeli forces launched a fresh military assault last week against what they say are Hamas targets in the Gaza Strip. The UN has estimated that three-quarters of the fatalities were civilians. The Israeli government says its goal is to "inflict a significant blow on Hamas," who has launched hundreds of rockets into Israeli territory in the past week.
The Israeli Embassy in Bangkok closed down today after it learned about the planned protests, embassy officials said.
More than 100 police officers and plain-clothed agents watched the protest from afar without interfering with the protesters.
Since seizing power in a coup d'etat on 22 May, Thailand's military government has not consistently enforced its ban on public demonstrations.
While all recent anti-junta rallies have been swiftly put out by security officers, often followed arrests, a number of other protests have been permitted without interference. The latter includes a one-man anti-American protest in front of the US Embassy several weeks ago, a rally in support of the death penalty as punishment for convicted rapists, and sporadic pro-coup rallies over the past few months.
Despite its close relations with the US, a major Israeli ally, Thailand recognised Palestine as an independent country in 2012. The Kingdom has also established diplomatic relations with Palestine and voted in favour of its membership status in the UNESCO.
Thailand's ruling military junta has not publicly commented on the ongoing conflicts in Gaza.
For comments, or corrections to this article please contact: [email protected]
You can also find Khaosod English on Twitter and Facebook
http://twitter.com/KhaosodEnglish
http://www.facebook.com/KhaosodEnglish