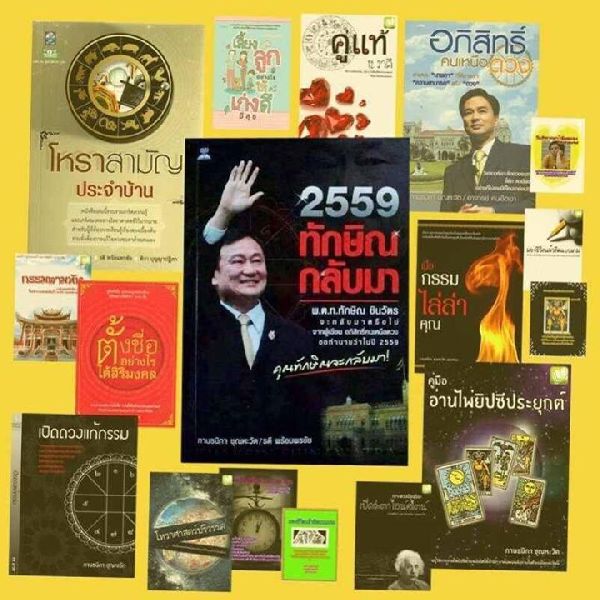 BANGKOK — Former Prime Minister Thaksin Shinawatra's son has denied media reports that his father handed out books titled "Thaksin Will Return in 2016" at his birthday party in France.
According to reports by Daily News and Manager ASTV, the self-exiled former PM implied that he is eyeing a return to Thailand by giving away the books at his 65th birthday party over the weekend. But Mr. Thaksin's son, Panthongtae Shinawatra, denied the reports in a Facebook post today.
"The rumour that this book was distributed in my father's birthday is baseless," Mr. Panthongtae wrote. "Let me emphasize here that – although I have not seen the content inside the book – my family is not involved in the book, regardless of what the authors wrote about my family in a positive or negative way."
According to the book's publisher, "Thaksin Will Return In 2016" is a collection of astrological predictions about a number of politicians.
Mr. Pangthongtae added that he is worried that the rumour will cause "misunderstanding," especially "during the atmosphere of reconciliation, when all sides want the country to be at peace and order." He also wrote that he wished to see the military return democracy and civil rights to Thai people very soon.
Mr. Thaksin was ousted in a 2006 military coup and later fled the country to avoid convictions of corruption. He has been living in exile, mostly in Dubai and Hong Kong, but is believed to retain significant influence over Thai politics. Politicians allied to Mr. Thaksin have won every election since his ouster, including his sister Yingluck Shinawatra, who served as Prime Minister from 2011 to 2014.
Although Mr. Thaksin is deeply respected by many rural poor and urban working class Thais, he is despised by a coalition of middle and upper class Bangkokians, who view him as a corrupt, "anti-monarchy tyrant." Mr. Thaksin's critics have fiercely opposed any attempt to grant the former PM amnesty and allow him to return home.
Since staging the coup against the government of Thakin's sister on 22 May, Thailand's military junta has harshly cracked down on the network of Mr. Thaksin's supporters, known as the Redshirts. Scores of activists, politicians, and academics perceived to be allied to the Redshirts have been summoned, detained, and harassed by the military.
For comments, or corrections to this article please contact: [email protected]
You can also find Khaosod English on Twitter and Facebook
http://twitter.com/KhaosodEnglish
http://www.facebook.com/KhaosodEnglish