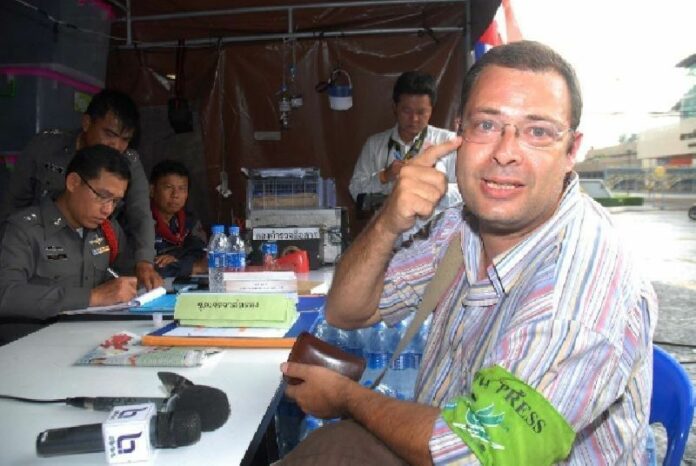 BANGKOK — A German photojournalist who was assaulted by anti-government protesters last year has urged police to step up the investigation against his attackers.
Freelance photojournalsit Nick Nostitz told Khaosod that he filed charges against the anti-government protest leader and former Democrat Party MP Chumpol Jumsai on 26 November 2013, a day after Mr. Chumpol told a crowd of protesters to attack him, yet police have not made any progress in their investigation over the last eight months.
The journalist was covering an anti-government demonstration on Ratchadamnoen Avenue on 25 November when Mr. Chumpol spotted him among the crowd and urged the protesters to "expel" him from the protest site because he was "Redshirt reporter." Mr. Nostitz was promptly beaten by a group of protesters, forcing nearby police officers to intervene and rescue him.
"I gave them all kinds of evidence, such as photos and videos at the moment of assault that other photographers recorded," Mr. Nostitz said, "When I asked Dusit Police Station [where he filed the charge], they told me the case is being handled by the Division of Special Investigation. But no one can give me answers about the current stage of the criminal investigation, even though it's been eight months."
The journalist said he has also complained about the incident to the National Human Rights Commission, yet the agency has not taken any helpful action.
Mr. Nostitz compared the silence over his case to the arrests of anti-government protesters who allegedly shot at and assaulted Royal Thai Army officer Col. Witthawat Wattanakul and pilot Surasak Sowattanakul during their campaign against the former government.
"The police have already arrested the suspects in those two cases, so I ask the police to speed up the investigation in my case, too," Mr. Nostitz said, adding that he still feels unsafe even after the anti-government protests ceased following the 22 May military coup.
"I don't feel safe because I am constantly intimidated by supporters of the PCAD who phoned me to berate me and my family," Mr. Nostitz said, using the acronym of the anti-government People's Committee for Absolute Democracy With the King As Head of State. "Whenever I go out I have to be careful. I can't do my job as a reporter as normal. I can barely make a living these days."
He also demanded PCAD leaders like Mr. Chumpol apologise to him for accusing him of being a "Redshirt reporter."
"What do they want from me? I am not a Redshirt or a Yellowshirt or any-shirt. I am a journalist. How can I accept reconciliation when I still have not received any justice?"
A veteran journalist who has been covering Thailand for more than a decade, Mr. Nostitz has reported extensively on the Red-Yellow political crisis that has sharply polarized Thai politics since the 2006 military coup.
Although Mr. Nostitz spent considerable time covering demonstrations and protests of both Redshirt and Yellowshirt factions, he eventually became a target of intimidation from many Yellowshirt supporters who viewed him as aligned with the Redshirt movement.
In May 2014 Mr. Nostitz was nearly abducted by several PCAD guards while he was covering news at the Constitutional Court in Bangkok. The guards reportedly attempted to take him to the PCAD leader Buddha Issara, a monk who has a record of capturing and torturing undercover police officers.
For comments, or corrections to this article please contact: [email protected]
You can also find Khaosod English on Twitter and Facebook
http://twitter.com/KhaosodEnglish
http://www.facebook.com/KhaosodEnglish