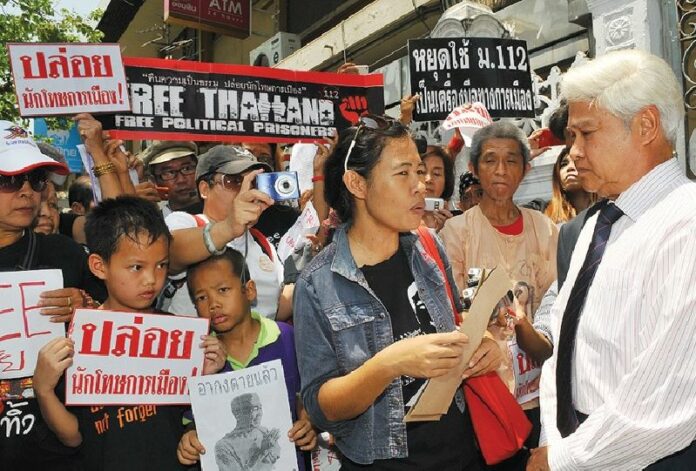 BANGKOK — Two activists accused of insulting the monarchy in a theatrical performance last October were denied bail for the second time in criminal court today.
Patiwat Saraiyaem, 23, and Pornthip Munkong, 25, are awaiting trials for lese majeste (insulting the monarchy) in Bangkok Remand Prison and Central Women's Correctional Institution, respectively.
The court said it is necessary to detain Mr. Patiwat and Ms. Pornthip until the investigation into their alleged wrongdoing is complete, Prachatai reported.
The two activists are facing lese majeste charges for their involvement in a play called "The Wolf Bride," which was performed at Thammasat University in Bangkok last October to commemorate the 40th anniversary of the 1973 student uprisings.
According to authorities, the play was offensive to the monarchy.
Under Thai law, criticising the Royal Family is punishable by up to 15 years in prison. Suspects in lese majeste cases are rarely released on bail during their trials.
Mr. Patiwat and Ms. Pornthip will now be held in prison for 12 more days, after which another court hearing will be adjourned to decide whether to grant the pair release on bail. According to the report by Prachatai, the court said it has instructed officials to "quickly" wrap up their investigation.
Mr. Patiwat and Ms. Pornthip, who have been in prison since they were arrested in mid-August, have already been denied bail once before.
Read more:
UN Raises Alarm Over Post-Coup Lese Majeste Cases