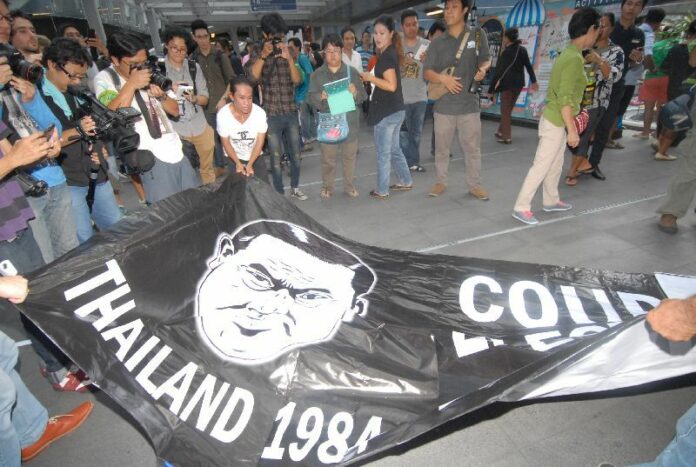 BANGKOK— An international human rights organization is calling upon the Thai government to disclose the whereabouts of a Redshirt activist who was reportedly arrested by soldiers five days ago and hasn't been seen or heard from since.
According to the New York-based Human Rights Watch, Kittisak Soomsri, 47, was arrested by plain-clothed soldiers in Bangkok on 5 September.
Shortly after the arrest, Mr. Kittisak's family was reportedly informed through an anonymous phone call that Mr. Kittisak had been taken into military custody for questioning and would be released without charges after seven days—the legal limit for arbitrary detention under martial law.
However, Thailand's military authorities have denied arresting Mr. Kittisak or keeping him in their custody, Human Rights Watch (HRW) reported in a press release yesterday.
"The Thai government and military should immediately disclose Kittisak's location," said Brad Adams, Human Rights Watch's Asia Director. "Kittisak Soomsri's enforced disappearance shows the Thai military's wanton disregard for basic rights under martial law."
Mr. Kittisak was an active member of the Redshirt's umbrella organization, The United United Front for Democracy against Dictatorship (UDD), which supported the government toppled in the 22 May coup d'etat.
In 2010, Mr. Kittisak was accused of participating in a bomb attack and other violent incidents that occurred during confrontations between Redshirt protesters and security forces under then-Prime Minsiter Abhisit Vejjajiva's government. According to Human Rights Watch, Mr. Kittisak was never arrested or prosecuted for these allegations.
Since seizing power on 22 May, Thailand's military junta, known as the National Council for Peace and Order, has used its powers under martial law to summon and detain more than 300 activists, politicians, journalists, and academics for "attitude adjustment." Many of these people have been held incommunicado in military camps and forced to sign forms promising not to participate in any political activities to secure their release.
The majority of detainees have been held for no more than seven days, but in late May a 26-year-old Redshirt activist was arrested and detained for nearly a month. After fleeing to Europe upon her release, Kritsuda Khunasen accused soldiers of beating and torturing her while she was in their custody.
NCPO chairman and Prime Minister Gen. Prayuth has dismissed her torture allegations as "untrue" and ignored the UN's calls for an investigation.
"As both junta leader and prime minister, General Prayuth has vowed to respect human rights, but hasn't followed through his words with actions," Human Rights Watch's Mr. Adams said. "Prayuth could start by ordering an end to arbitrary arrests and secret detentions, releasing all those wrongfully held."