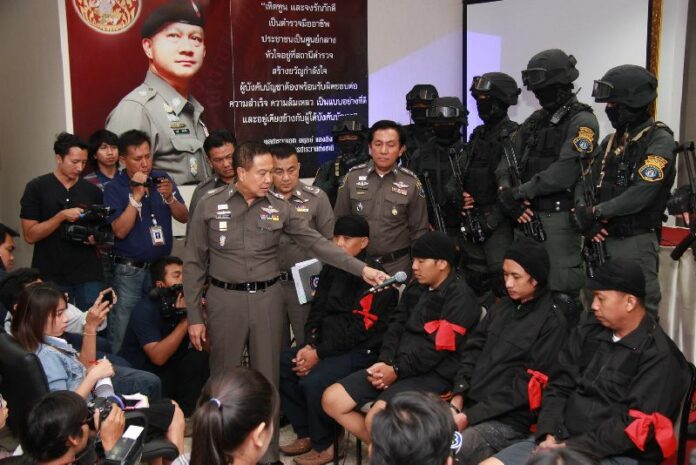 BANGKOK — Thailand's chief of police has scaled back his claim that a 26-year-old Redshirt activist provided weapons to militants who fought with security officers during the 2010 unrest.
Pol.Gen. Somyot Pumpanmuang previously suggested that Kritsuda Kunasen, who is currently living in exile, supplied military-grade weapons to the suspected "Blackshirt" militants who were arrested last week. He claimed police found pay slips and money transfer records in Ms. Kritsuda's home.
But Pol.Gen. Somyot said yesterday that police have not established a clear link between the 26-year-old activist and the armed militants.
"Ms. Kritsuda may be involved with the case, but we cannot yet determine clearly what the money [Ms. Kritsuda] transferred to those accounts was for," Pol.Gen. Somyot said. "We do not know the purpose of the money."
In May, the military detained Ms. Kritsuda without charges for 27 days, exceeding the seven-day limit on arbitrary detention that authorities respected for the majority of other detainees. After being released, Ms. Kritsuda fled to Europe and accused soldiers of torturing her during the detention – an allegation the military has vehemently denied.
Shortly after Ms. Kritsuda spoke out about her experience in military custody, Pol.Gen. Somyot accused her of engineering gunfire and grenade attacks on anti-government protesters who took to the streets in December 2013 – May 2014.
Last week, Pol.Gen. Somyot also accused Mr. Kritsuda of supplying weapons to Redshirt-allied militants in 2010, following the arrest of five suspected "Blackshirts" on Thursday. The "Blackshirts" is a name given to the masked gunmen who were seen exchanging fire with security forces during the military crackdown on Redshirt protesters around Ratchadamnoen Avenue on 10 April 2010.
Twenty civilians and five soldiers, including the commander of the operation, were killed in the clashes.
Yesterday, Pol.Gen. Somyot insisted that police's ongoing effort to extradite Ms. Kritsuda is needed to question her about the Blackshirts.
"The police have to arrest Ms. Kritsuda first, so that we can know what the money was for," Pol.Gen. Somyot said, adding that the police still do not know in which country the activist is currently residing.
It's unclear why the military let Mr. Kritsuda walk free after her detainment. Some Redshirt supporters suspect authorities fabricated the charges against Ms. Kritsuda – which came after her allegations of torture – in an attempt to discredit the activist.
On Saturday, Ms. Kritsuda uploaded a video from Geneva, refuting "Uncle Somyot's" allegations and insisting that she was too young to be involved in politics in 2010.
"I feel ashamed on behalf of the low-ranking and high-ranking police officers who are not happy about this case," Ms. Kritsuda said in the video, adding that she is currently meeting with rights groups in Geneva to talk about her torture experience.
Related articles:
Missing Redshirt Ends Up As Militant Suspect
Police Charge 'Tortured' Activist With Gunrunning
For comments, or corrections to this article please contact: [email protected]