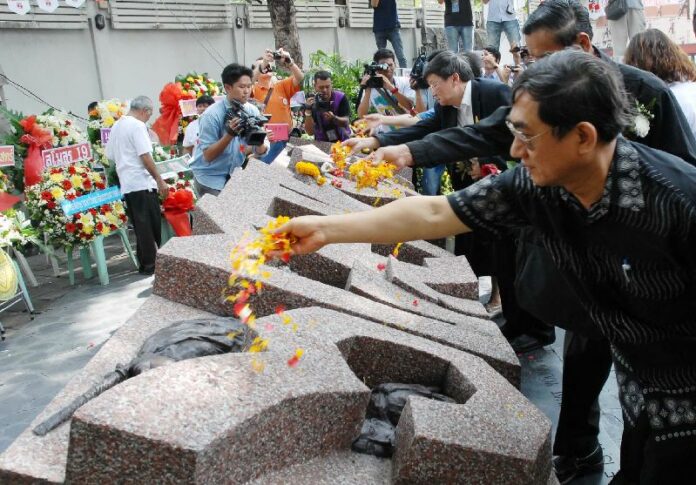 BANGKOK — Thammasat University's administrators have preemptively banned any political events commemorating the massacre that took place inside the university on 6 October 1976, presumably to comply with the military junta's ban on all political activities.
The October 6th Massacre is traditionally commemorated by activists and survivors of the incident at Thammasat's Tha Prachan campus. In previous years the event has featured religious ceremonies dedicated to the dead, political exhibitions, and academic seminars about the massacre.
But this year's anniversary will only feature religious ceremonies, per orders from the university administrators, said Wipha Dawanee, a Thammasat lecturer who has been the main organiser of the October 6th commemoration event since 1996.
"We were told not to have any [political] discussions, and we are not allowed to use the university's auditorium," Ms. Wipha said.
Nakarin Mektrairat, deputy rector of Thammasat University, told Voice TV that the ban on political activities is necessary because "in previous years there have been [activities] that caused problems and division."
Public demonstrations – especially those with a political bent – are currently banned under orders from Thailand's military junta, known as the National Council For Peace and Order, which seized power in a coup d'etat on 22 May, 2014.
On 6 October, 1976, security forces and right-wing militants stormed Thammasat Univeristy and attacked several thousand student activists who were protesting the return of a former military dictator.
The massacre was notable for the brutal death of some activists, including one student who was lynched and beaten with a chair. Forty-six people died in the crackdown according to official figures, though historians believe the number of casualties was much higher.
Piyarath Chongthep, a core activist in the Thai Student Centre for Democracy (TSCD), said his group initially planned to hold panel discussions this 6 October, "like previous years," but was informed a few days ago that political events were prohibited.
"Some people still want to organise the event, but right now we have to wait to hear opinions from other groups too," Mr. Piyarath said.
Though traditionally regarded as a mainstay of the democratic movement in Thailand, Thammasat University has come under criticism in recent years for a string of conservative, pro-establishment administrators.
The current rector, Somkit Lertpaithoon, has recently been targeted by Thammasat student activists for his support of the 22 May coup that toppled the elected government, and for his appointment as a member of the junta's National Legislative Assembly (NLA).
The October 6th Massacre remains a sensitive topic in present-day Thailand. Many state-approved school textbooks omit both the massacre and the preceding 1973 student uprising.