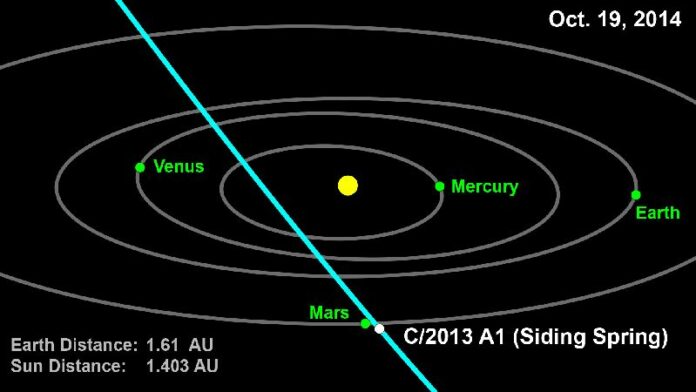 BANGKOK — A prominent political astrologer in Thailand says that "chaos" may be coming to the Kingdom as a comet is expected to skim past Mars today.
Boonlert Pairin, former Democrat MP and Senator turned astrologer, said the cosmic phenomenon may cause chaos in Thailand because the planet Mars is associated with civil unrest and comets are known to be harbingers of doom.
The comet, nicknamed Siding Spring, will pass by about 137,000 km from Mars, which is about a third of the Earth-Moon distance. Although astronomers say the passing will not have any immediate impact on Earth, Boonlert is convinced that "it will not bring good things to Earthlings and Bangkokians."
Many Thais are deeply superstitious, and all major politicians are known to consult personal astrologers, including junta leader and Prime Minister Prayuth Chan-ocha.
"There will be confusion and disputes," Boonlert said. "If the government cannot control the situation, it will have to talk with political leaders and inform them that the country is in ill condition."
The astrologer explained that the chaos will likely be caused by politics, citing the cremation of former Pheu Thai MP Apiwan Wiriyachai today as an example of a political event that has coincided with the comet's passing.
Thousands of Redshirt supporters and politicians, including former Prime Minister Yingluck Shinawatra, are expected to attend the cremation of the veteran politician who died in exile in the Philippines earlier this month, though the funeral's organisers insist that there will be no "politics" at the ceremony as requested by authorities.
Boonlert, the astrologor, was a staunch supporter of the 2013-2014 protests aimed at toppling the government that was eventually ousted in the 22 May coup. In January, he predicted that Yingluck would lose her premiership, and that the protesters calls for "national reforms" would be achieved.
Boonlert's prediction essentially came true after the military staged a coup against the remnants of Yingluck's government in May and adopted the protesters' platform of "Reforms Before Elections."
Several months after seizing power, the junta appointed an interim government to oversee widespread national reforms and draft new constitution. The junta says that elections will be held once the reform process is completed and "national reconciliation" has been achieved.
For comments, or corrections to this article please contact: [email protected]
You can also find Khaosod English on Twitter and Facebook
http://twitter.com/KhaosodEnglish
http://www.facebook.com/KhaosodEnglish