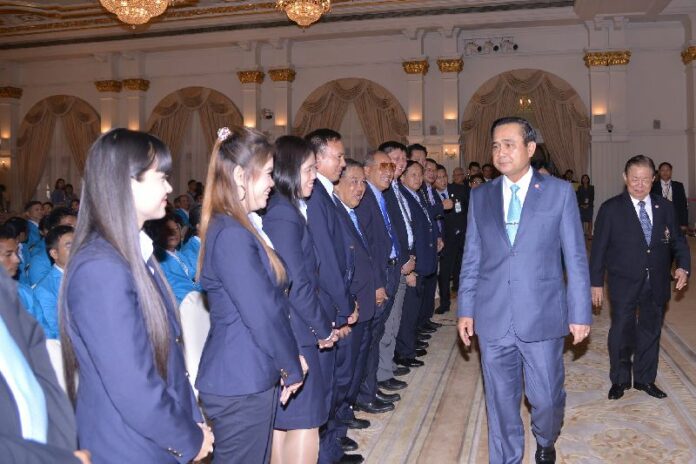 BANGKOK — The Prime Minister and chairman of Thailand's military junta has asked newspapers not to describe him with dramatic or "negative" language, a government spokesperson says.
Gen. Prayuth Chan-ocha is concerned that the media's use of colourful language will affect his credibility as a strong, serious leader, said Maj.Gen. Sansern Kaewkamnert, deputy spokesperson of the Office of Prime Minister.
"The Prime Minister believes that some words have a negative tone," Maj.Gen. Sansern said. "We are not sure how these words were invented."
He cited Thai words like wo (to claim), foong (to suggest some incredible plan), pad (to deny), tee peep (to advertise one's achievement), and huem (to be angry), which are routinely used by Thai-language newspapers in headlines and leads about Gen. Prayuth.
"These words are negative and un-constructive. When the public hear these words, they feel that the official described in the news is not credible," Maj.Gen. Sansern told reporters in a press conference yesterday.
He added that Gen. Prayuth is still concerned by "some newspapers" that continue to "present news that contradicts with reality."
"The Prime Minister has already explained that some information presented by the media is not accurate, and has shown what is correct," Maj.Gen. Sansern said. "[The official information] is backed by evidence, reasons, document, and existing operation. However, certain media agencies still present the same pieces of information without regards to what the officials have tried to explain."
Gen. Prayuth, who came to power by staging a coup against the elected government on 22 May, is increasingly seen as an authoritarian leader with a growing cult of personality. As the chairman of the military junta, which has retained absolute power over his semi-civilian government, Gen. Prayuth has banned all public protests against his regime and urged the media to refrain from criticising his missions.
Gen. Prayuth has also antagonised a number of reporters by scolding at them at press conferences for asking questions about the country's administration.
In late September, Gen. Prayuth went as far as threatening to throw the podium at a reporter who asked if the general would run as Prime Minister in the next election.