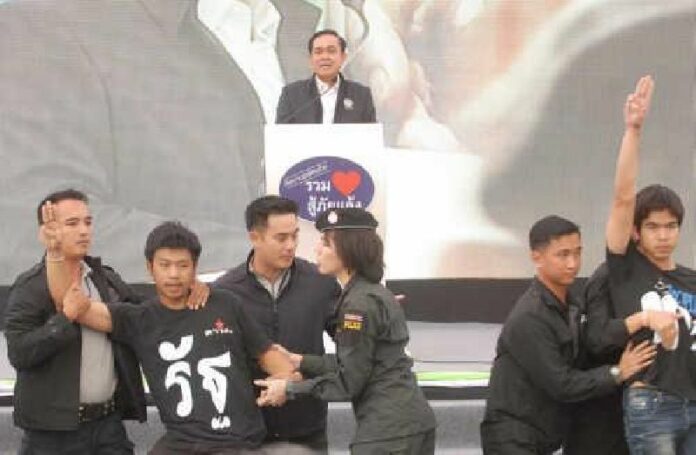 BANGKOK — A movie theatre in Bangkok has pulled the latest "Hunger Games" film from its program, a day before an anti-coup protest was scheduled to take place at the film's premiere.
Student activists in Bangkok told Khaosod English they were planning to stage a protest against Thailand's military government at Scala threatre tomorrow during the premiere screening of "The Hunger Games: Mockingjay -Part One." A similar anti-coup rally was held during the film's premiere in London on 10 November.
A spokesperson for Apex company, which owns Scala threatre, confirmed to Khaosod English today that the film has been removed from the threatre's program for the rest of the season.
"We were told to remove the film today," the spokesperson said. "I can't say why. I have no clue."
The decision to cancel the film came after students organising the protest bought all of the seats for the 12 pm screening, said Than Rittiphan, a Thammasat University student involved with planning the demonstration.
"We are shocked by the news," Than said. "And now we are stressed because we already paid for the tickets."
The "Hunger Games" became associated with the anti-coup movement in Thailand after protesters adopted the "three-finger salute" from the film series in the wake of the 22 May 2014 military coup. In the films, the three-finger salute is used as an act of rebellion against an authoritarian government.
The gesture, and all other political protests, are currently banned by Thailand's military government.
Just this morning, five student activists were brought to a military camp after they flashed the Hunger Games salute while junta chairman and Prime Minister Prayuth Chan-ocha was giving a speech in Khon Kaen province.
On Monday, the director of the Hunger Games movies told The Sydney Morning Herald that he was troubled by the Thai junta's actions against peaceful protesters adopting the gesture.
"When people are getting arrested for doing something from your movie, it's troubling," Franics Lawrence said. "It is sort of thrilling that something that happens in the movie can become a symbol for people, for freedom or protest. But when kids started getting arrested for it … it takes the thrill out of it and it becomes much more dangerous and it makes the feeling much more complex."