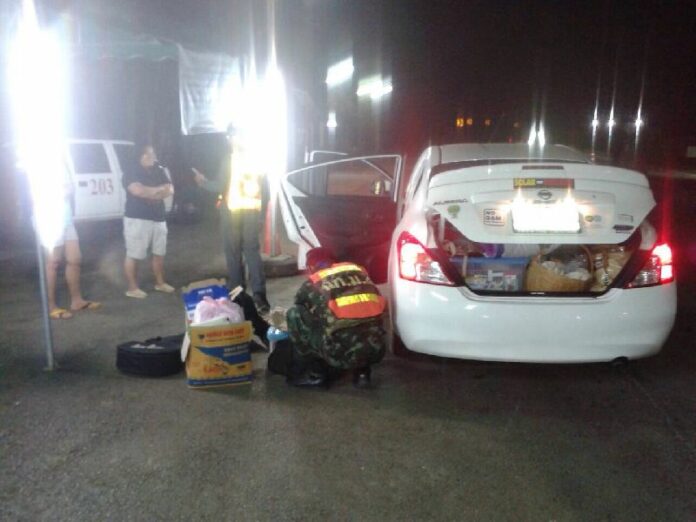 CHIANG MAI – Two women were detained by the military in Chiang Mai province today for allegedly sharing photo of themselves with anti-coup placards with their friends on a chat application.
Siripon Chaipetch, 39, and Jindarat Permlarpwirun, 30, were arrested at a roadside military checkpoint in the northern province in the early morning today.
According to Pol.Col. Piyapan Pattarapongsin, chief of Chiang Dao Police Station, the two were seen in a photo, which has gone viral on social media, holding placards with anti-coup messages at the peak of Doi Luang Chiang Dao mountain.
The texts on their placards read "Repeal martial law!" and "We don't want the NCPO!" a reference to the military junta's formal name, the National Council of Peace and Order (NCPO).
"The military and the police became aware of the photo, and so we place checkpoints around the city to look for [the two women]," Pol.Col. Piyapan said.
Shortly after seizing power from the elected government on 22 May, the NCPO imposed nationwide martial law and banned all political activities against its regime. Violators have been sent to face trials in military court, where appeals are not permitted.
Pol.Col. Piyapan said Siripon and Jindarat confessed to taking the photo of themselves with the anti-coup signs when they were visiting the mountain peak on 19 November, but insisted that they only shared the photo to their friends on LINE messenger.
The suspects did not know who posted the photo on social media, the officer said.
"They said they only expressed their personal opinions, they only sent the photos to their friends on a LINE chat group," Pol.Col. Piyapan told reporters.
Siripon and Jindarat were held briefly at a police station and later released without charges. At the police station they were instructed by a group of soldiers from 5th Cavalry Division to be "careful" and to refrain from "causing conflicts" in the society.
"We warned them that if they do such action again the future, the military may summon them for detention in a military camp to adjust their attitude, in accordance with the military system," Pol.Col. Piyapan said.
He concluded, "This incident should be a warning to all other individuals who have not yet understood about what they should or should not post on social media."
The two women's arrests came a day after police detain three people in Bangkok in connection to an activist group's mass screening of the film "Hunger Games: Mockingjay Part One," which has become associated with anti-coup movement in Thailand.
A member of the NCPO reiterated yesterday that while Thais are still allowed to privately disagree with the military junta, they cannot express their dissent in any way.
For comments, or corrections to this article please contact: [email protected]
You can also find Khaosod English on Twitter and Facebook
http://twitter.com/KhaosodEnglish
http://www.facebook.com/KhaosodEnglish