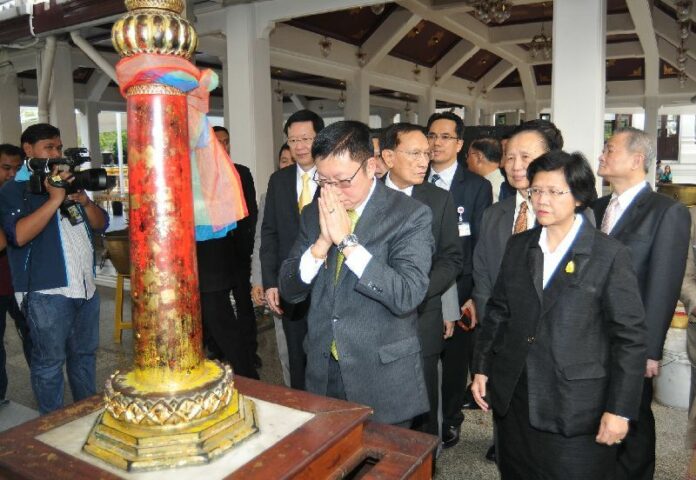 BANGKOK — The deputy chairperson of the National Reform Council (NRC) says one of his recent speeches was distorted to imply that he insulted Thailand's Crown Prince.
Borwornsak Uwanno filed a charge against the "Voice of Siam" Facebook page on Saturday, accusing the group of violating the Computer Crimes Act by misrepresenting a speech he gave on women's rights at the Prince Palace Hotel on 21 November.
Borwornsak says the page's administrators "distorted" his speech by only showing the moment when he suggested that the next ruler of Thailand will be a "woman," implying that he believes the next monarch will be female, contrary to the current law of succession.
"I was in fact talking about how women in general would be the rulers of our country," Borwornsak said after he filed his complaint at Thai police's Technology Crime Division (TCD) on Saturday. "But Voice of Siam edited my remarks and caused a lot of misunderstanding. It has been posted on many websites that are affiliated to a certain political side."
Borwornsak urged the public to watch the full version of his talk on 21 November instead of the "distorted" version posted by Voice of Siam.
In the speech, Borwornsak cites a well-known poem, said to be a century-old enigmatic prophecy penned by a renowned Buddhist monk, which proclaims that under the next monarch, Thais will become "Civilized People."
However, Borwornsak said that the original poem did not use the word "Civilized" because the author, Somdej To, could not have been literate in English. Instead, Borwornsak believes the author meant to write "Saowilai," or "Beautiful Woman."
"That means he was predicting that the ruler/rulers of the land will be female," Borwornsak told the audience, and went on to suggest that the prophecy "has some truths" because women are increasingly visible in leading academic and bureaucratic posts.
In the now-deleted post, Voice of Siam alleged that Borwornsak preferred a female queen to rule Thailand instead of Crown Prince Vajiralongkorn, who is the current designated heir to the throne.
When framed as a comment on royal succession, the remark has serious implications in Thailand, where criticism of the royal family can be punished by up to 10 years in prison.
For comments, or corrections to this article please contact: [email protected]
You can also find Khaosod English on Twitter and Facebook
http://twitter.com/KhaosodEnglish
http://www.facebook.com/KhaosodEnglish