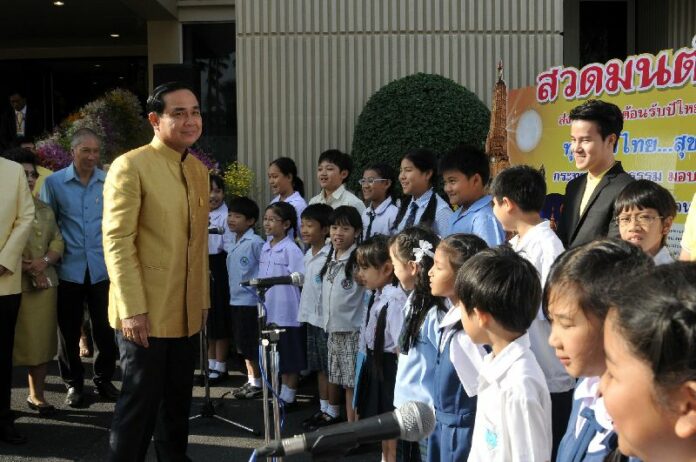 BANGKOK – Thai junta leader and Prime Minister Prayuth Chan-ocha has encouraged Thais to pray on the New Year Day and practice his teachings.
Gen. Prayuth delivered the remarks to a group of schoolchildren visitors after he concluded the last Cabinet meeting of the year 2014 at Government House in Bangkok today.
Referring to himself as "Uncle," Gen. Prayuth told the children that he seized power from the elected government on 22 May for the sake of their future, and urged them to follow his teaching of "Twelve Values." He also sang the patriotic song "Tomorrow" with the schoolchildren, who are members of a musical tutoring school in Bangkok.
"Your uncle has done this for the sake of your future," the junta leader said, "Please be diligent in your studies, commit yourselves to studies. Please practice what the song has taught you, such as love, unity, and doing good. [Follow] the way of the Twelve Value."
Gen. Prayuth then turned to address reporters and officials who were standing nearby, "On the occasion of the New Year, if you have time, you should say some prayers. Be happy, ok? Be happy and be lucky in the next year."
The Twelve Values, which Gen. Prayuth bestowed to the nation in a televised broadcast in July, are the following:
1. Loyalty to the Nation, the Religion, and the Monarchy
2. Honesty, sacrifice, endurance, and noble ideology for the greater good
3. Gratitude for parents, guardians, and teachers
4. Diligence in acquiring knowledge, via school studies and other methods
5. Preserving the Thai customs and tradition
6. Morality and good will for others
7. Correct understanding of democracy with the King as Head of State
8. Discipline, respect for law, and obedience to the older citizens
9. Constant consciousness to practice good deeds all the time, as taught by His Majesty the King
10. Practice of Self-Sufficient Economy in accordance with the teaching of His Majesty the King
11. Physical and mental strength. Refusal to surrender to religious sins.
12. Uphold the interest of the nation over oneself.
The Thai junta has promoted the Values by producing a pop song, a poem, a film, and numerous billboards.
The government also released a set of "stickers" on popular chat application LINE depicting the Twelve Values today. LINE users in Thailand can download the Twelve Values stickers for "free," thanks to a payment of 7 million baht the Thai state gave to the Japan-based company.
Meanwhile, Veera Rojpojanarat, Minister of Culture, said all historic sites in Thailand will waive entrance fees for Thai people throughout the New Year holiday season as a "New Year present."
Read more: Thai Govt Releases LINE 'Twelve Values' Stickers
For comments, or corrections to this article please contact: [email protected]