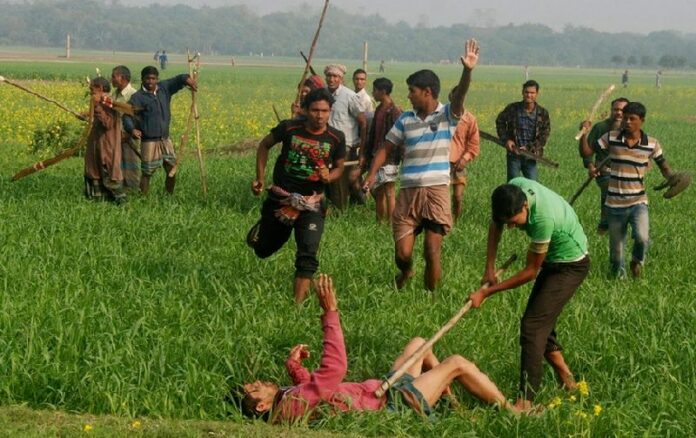 By Robin Powell
BANGKOK (DPA) – From the world's biggest election to a military coup to months of pro-democracy protests, Asia became arguably the world's most important crucible for democracy in 2014. And more tests are forecast for the year ahead.
A dramatic year for Asia's democracies began inauspiciously.
On January 5, Bangladesh's ruling party won elections that were boycotted by the opposition and beset by violence that killed more than 100.
Meanwhile, Thailand found itself politically paralysed, with daily anti-government protests choking the capital Bangkok. In May, the army stepped in, as it had about a dozen times in the country's modern history.
Coup leader and now Prime Minister General Prayuth Chan-ocha would guide the country, he said in a much-debated phrase, towards a "Thai-style democracy."
"Thai-style democracy emphasizes traditional institutions and values rather than the rights and expectations of an awakening electorate," said Thitinan Pongsudhirak, the director of the Institute for Securities and International Studies.
Indeed, the path back to democracy in Thailand has been getting longer, with the first post-coup elections – expected in late 2015 – now likely to be pushed back to 2016.
There was more gloom for pro-democracy groups in neighbouring Myanmar, as the authorities in November shut the door on changing the country's military-drafted constitution anytime soon.
The constitution is "unfair, unjust and undemocratic," insisted opposition leader Aung San Suu Kyi, with visiting US President Barack Obama at her side.
Days after Obama's departure, changes ahead of elections in 2015 were ruled out.
There will still be a referendum on the charter and the "political bargaining" over constitutional change will continue in a "crucial" 2015, said political analyst Myo Yan Naung Thein.
By the middle of the year, Asia's electoral disappointments – including a deeply flawed vote in Afghanistan – had commentators talking about "democracy in retreat" in the region.
In fact the biggest success stories were in Asia's two largest democracies: India and Indonesia.
Turnout in India's general election was the highest in history, as 66 per cent of 815 million registered voters headed to the polls in April and May.
Indonesia's young democracy came through its own test a few months later.
After a peaceful vote for a new president in August, Indonesians waited patiently as the result was first challenged in court, and then a winner – former governor Joko Widodo – confirmed in October.
Indonesian democracy was "maturing" said Yunarto Wijaya, director of local think tank Charta Politika. "Indonesia has become a role model for peaceful, democratic transfers of power in South-East Asia," gushed The New York Times.
End-of-year elections in Japan also went smoothly, albeit entirely predictably.
The Liberal Democratic Party – in power for 65 of the last 69 years – won yet another mandate in December, even as turnout fell to a post-war low of 52.66 per cent and the poll became the butt of media jokes.
"Electoral dysfunction leaves Japan's voters feeling impotent," as one commentator put it in The Japan Times.
Japan isn't the only Asian nation that seems to lack what is a keystone of democracy in Europe, the United States and elsewhere: a credible opposition to take the government to task.
Lee Kwan Yew's People's Action Party has led Singapore since 1965. In Malaysia, Prime Minister Najib Razak's United Malays National Organisation (UMNO) has been the dominant force since independence in 1957.
Few would gamble on major political change in these three countries in the coming year – but that may not be a bad thing, argues public policy Professor Lok-sang Ho at Hong Kong's Lingnan University.
"Having different parties and elections may not be essential," he says. "The spirit of democracy is that the government must be responsive to people's needs and effective in filling those needs.
"This could be an Asian Style Democracy," he suggested.
Ho was one of the opponents of student-led protests in Hong Kong in the second half of the year, where the debate over the limits of democracy reached perhaps its highest pitch.
The biggest challenge to China's autocratic rule since 1989 gradually ran out of steam amid assertive policing and a lack of wider support both within Hong Kong and internationally.
One of the grandees of Asian politics, Singapore's Lee, said the students may have been aiming too high.
"Each country has to find its own way forward. I don't think there is salvation in saying we need more democracy … Hong Kong is just one of the cases in point," he told an international business forum.
Banners proclaiming "We will be back" at vacated protest sites hinted of more trouble to come for Beijing. Opposition lawmakers meanwhile suggested they may obstruct Beijing's limited electoral reforms.
Despite obstacles along the way, some emphasize that Asian democracy has come far in recent decades.
Shashi Tharoor, a former UN undersecretary general and current Indian lawmaker, summed up Asia's democratic trials:
"A generation ago, half of Asia's governments had seized power by force," he wrote. But it will take more progress "before the continent will truly have turned the democratic corner."