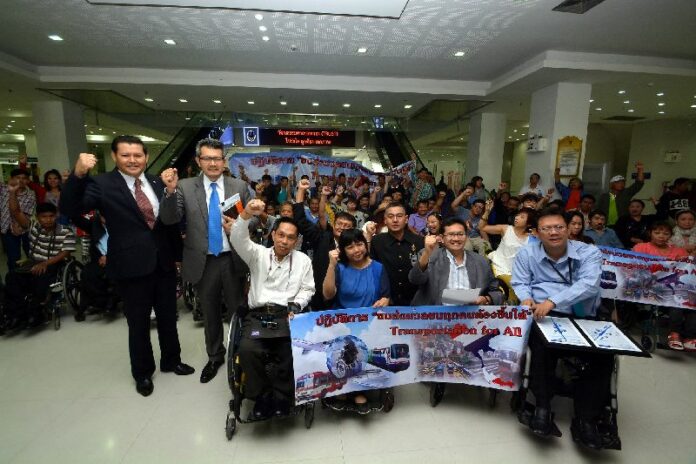 BANGKOK – The Supreme Administrative Court has ruled that Bangkok's skytrain system must install more elevators and other equipment to assist disabled passengers.
The ruling followed a lawsuit filed by a group of Thais who use wheelchairs against the operators of the the skytrain, known officially as the Bangkok Mass Transit System (BTS).
Currently, only five of 23 BTS stations are equipped with elevators for disabled passengers: Siam, Mo Chit, Chong Nonsri, National Stadium, and On Nut – one elevator for each station. No BTS station provides slopes for wheelchairs.
The lower Administrative Court dismissed the lawsuit in 2009 on the grounds that 2001 legislation protecting the rights of disabled citizens was enacted six years after the BTS system was built. However, prosecutors appealed the verdict, and the Supreme Administrative Court overturned the ruling today.
According to the new verdict, the court has the power to intervene in the BTS operations because the case affects a "large number of people," in accordance with Second Clause of the Section 52 of the Act of Supreme Administrative Court.
In its ruling, the court ordered the BTS and Bangkok Metropolitan Administration (BMA) to build elevators in all of the 23 skytrain stations. The court also instructed the BTS to construct wheelchair slopes, stairs, and signs for disabled passengers in every station within one year.
The BTS is a major systme of public transportation in Bangkok, a city known for its notorious traffic jams. It is estimated that there are at least 600,000 rides on BTS per day.
For comments, or corrections to this article please contact: [email protected]
You can also find Khaosod English on Twitter and Facebook
http://twitter.com/KhaosodEnglish
http://www.facebook.com/KhaosodEnglish