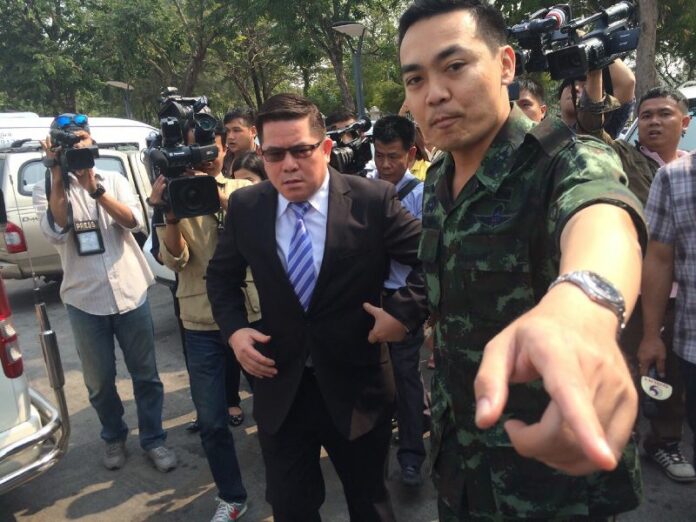 BANGKOK — The top legal adviser to former PM Yingluck Shinawatra was summoned by the military for "attitude readjustment" today after he publicly criticized her impeachment last Friday.
Singhtong Buachum, a lawyer and former Pheu Thai MP, was "invited" to meet with a military unit in Bangkok today for "conversation and attitude readjustment," said Lt.Gen. Kampanart Ruddith, commander of 1st Region Army.
"What Singhtong has been telling the military and the media is different," Lt.Gen. Kampanart said. "So there was some misunderstanding." Singhtong was reportedly released later in the day.
Last week, Singhtong criticized the junta-appointed legislature's decision to impeach Yingluck for allegedly failing to stop corruption in her administration's rice-pledging scheme.
He said his team was especially concerned by the criminal charges pressed against Yingluck, and asked the junta to grant the former PM amnesty. "If there is no amnesty, reconciliation will fail," Singhtong said.
However, he also promised that the Pheu Thai Party would not violate martial law by mobilizing its supporters to protest the impeachment or any other verdict against Yingluck.
"We want the NCPO and the government to help Thailand move forward," Singhtong said on 23 January, referring to the junta's formal name, the National Council for Peace and Order.
Singhtong later posted on Facebook that it was Lt.Gen. Kampanart who ordered Yingluck to cancel her scheduled press conference after the impeachment vote on Friday. According to Singthong's post, Lt.Gen. Kampanart threatened to invoke martial law and summon Yingluck and her legal team to report if they did not comply.
After canceling the press conference, Yingluck posted a statement on her official Facebook in which she insisted on her innocence, defended the rice-pledging policy, and condemned the impeachment as a politically-motivated attack.
When asked today if anyone else would be summoned for attitude adjustment, Lt.Gen. Kampanart replied, "If they do not cause chaos we won't invite them."
In the weeks following the 22 May 2014 coup, the Thai junta summoned more than 300 politicians, activists, journalists and academics for "attitude adjustment." Many of them were detained in military camps for up to seven days before being released.
Read more:
Full English Text of Yingluck's Post-Impeachment Statement
Junta's Legislature Votes Overwhelmingly to Impeach Former PM Yingluck
Thai Ex-Premier Faces Criminal Charges Ahead of Impeachment Decision
For comments, or corrections to this article please contact: [email protected]