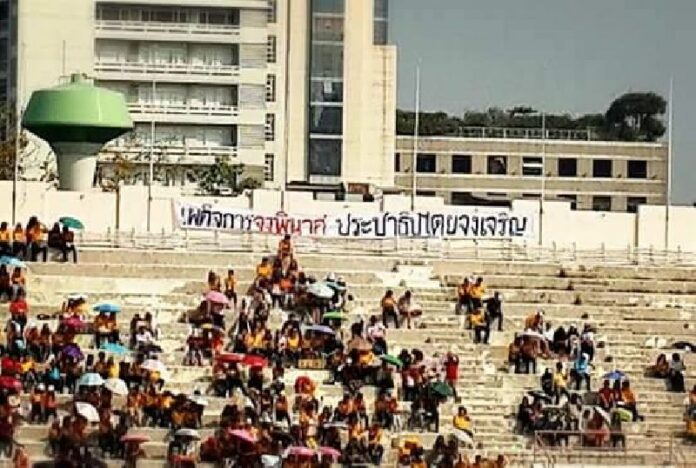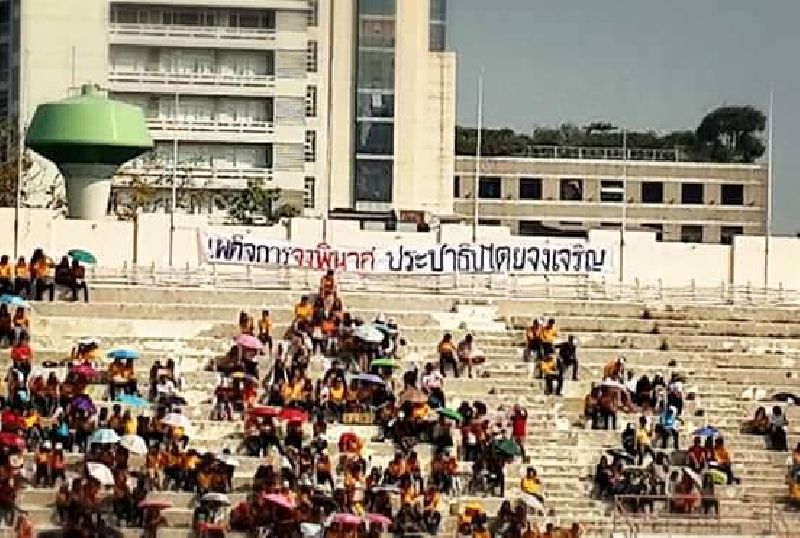 BANGKOK — Thammasat University students in Bangkok used an annual pre-football match parade to ridicule and criticize Thailand's military junta despite security officers' attempts to block the event.
Per tradition, Thammasat University students kick off their annual football match against Chulalongkorn University with a parade featuring commentary on contemporary politics.
Military officers initially "requested" the school cancel this year's parade in compliance with martial law and the junta's ban on all political activities. However, students and school administrators said the parade and card stunts would go ahead as planned.

A card stunt at the 2015 Thammasat-Chulalongkorn football match that reads: "[We] want democracy. When will you give it back to us?"
In an effort to censor the parade's political elements, military and police officers showed up at the National Stadium yesterday and attempted to prevent any political floats from entering the stadium.
Student organizers promised the security officers that the floats only focused on "social and foreign issues," such as the Thai economy and ISIS, a jihadist group that controls territory in parts of Syria and Iraq. The soldiers and police eventually conceded, and allowed the students to enter. However, many of the floats turned out to be elaborately disguised.

A float that initially appeared to praise Gen. Prayuth's "Twelve Values" was later replaced with one bearing the word "Democracy" splattered in blood. [Photo: Prachatai]
For instance, a float that initially featured an ISIS militant was later revealed to be a mockery of junta chairman and Prime Minister Prayuth Chan-ocha. Similarly, a banner that appeared to praise Gen. Prayuth's "Twelve Values" was later replaced with one bearing the word "Democracy" splattered in blood.
When the "real" parade became apparent, several plain-clothed security officers forcefully seized political banners from students marching in the parade. (Watch a video here).
Other targest of criticism included Thailand's justice system, which was described as "corrupt" on one banner, the monopoly of Thai transport system, and the weekly TV program hosted by Gen. Prayuth, which was shown with a scene from Teletubbies in the background.

A float originally disguised as an ISIS militant was later revealed to be junta chairman Gen. Prayuth Chan-ocha.
One float, titled "Thailand Farm," compared the political situation in Thailand to George Orwell's Animal Farm, a novel about a group of animals who overthrow their masters on a farm and later impose a dictatorship of their own.
The parade also included a reference to the popular TV series "Game of Thrones."
Meanwhile, the card stunts, executed by hundreds of students, lampooned Thai taxi drivers for refusing to take passengers, criticized misbehaving monks who taint the Buddhist religion, and urged a person named "Pra…Yu…" to have some manners – a possible reference to Gen. Prayuth who is known for his hostile exchanges with the press.
The final card stunt spelled out: "[We] want democracy. When will you give it back to us?"
Student activists also hung two banners (above) that read "Down with Dictatorship!" and "Long Live Democracy!" on the upper level of the stadium. The activist group Chulalongkorn Community for the People later claimed responsibility for the banners.
Vajiravit Kongkhalai, the Thammasat political science student in charge of planning the parade, told Prachatai that the event originally planned to feature many more banners, but some were seized by security officers.
The tone of this year's parade and card stunts caught many by surprise, as previous years have reflected a more pro-establishment political stance.
The Thai military junta has not publicly commented on the incident.
In the football game that followed the parade, Thammasat University beat Chulalongkorn by 2-0.
For comments, or corrections to this article please contact:[email protected]
You can also find Khaosod English on Twitter and Facebook
http://twitter.com/KhaosodEnglish
http://www.facebook.com/KhaosodEnglish