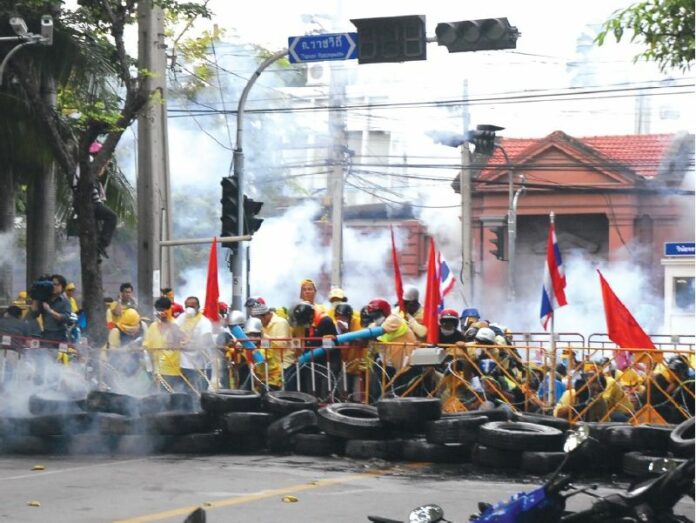 BANGKOK — The Supreme Court has accepted a lawsuit against former Prime Minister Somchai Wongsawat and his deputies for ordering a crackdown on the Yellowshirt protesters in 2008.
The chairperson of the Supreme Court's Division for Holders of Political Office accepted the case against Somchai and three others on February 9. The other defendants are former Deputy Prime Minister Chavalit Yongchaiyudh, former national police chief Patcharawat Wongsuwan, and former Bangkok police chief Suchart Muankaew.
All four men have been charged with abuse of power under Section 157 of the Criminal Codes for their role in dispersing Yellowshirt protesters on October 7, 2008.
On February 8, the National Anti-Corruption Commission (NACC) announced that it would prosecute Somchai and his deputies in in court. According to court documents, Somchai and three other defendants will enter their pleas on May 11.
The October 2008 crackdown came after Yellowshirt demonstrators, led by the People's Alliance for Democracy (PAD), seized the Government House and occupied parts of Bangkok to pressure Somchai into stepping down. The protesters accused Somchai of acting as a "puppet" for former Prime Minister Thaksin Shinawatra, the de facto leader of the Redshirts who was deposed in a military coup in 2006.
Police officers fired tear gas at the protesters and beat some of them with batons. Two demonstrators were killed in "explosions" later in the day. Police insist that they did not cause the blasts, while Redshirt activists say the victims were carrying explosives at the time of their deaths.
Her Majesty the Queen later attended the funeral of one of the two victims on 13 October 2008 and reportedly praised her sacrifice "for the country and the monarchy."
Critics accuse the NACC of backing the Yellowshirt faction and ruling against politicians allied to the rival Redshirt movement. The agency has been criticized for its slow progress in prosecuting the Yellowshirt-allied Democrat Party politicians who authorized a crackdown on Redshirt protesters in 2010 that left over 90 people dead.
Read more:
Families of 2010 Crackdown Victims Demand Progress From NACC
For comments, or corrections to this article please contact: [email protected]