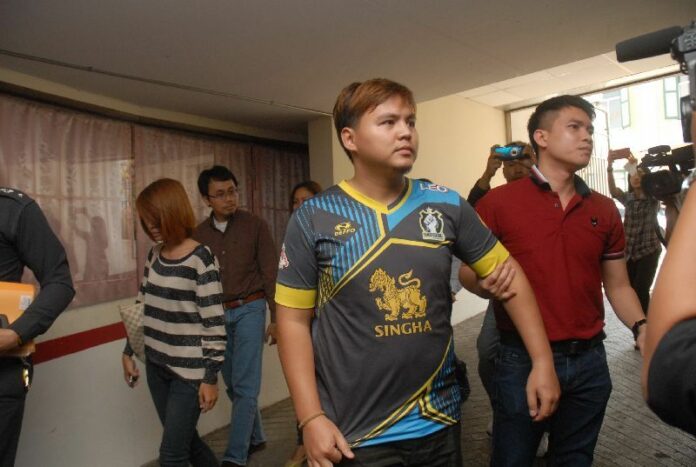 BANGKOK — The 25-year-old man accused of circulating a forged royal statement was released on bail today, a freedom rarely granted to those charged with defaming the Thai monarchy.
Krit Bootdeecheen was released on 400,000 baht bail without any conditions other than appearing for court appointments, said his lawyer, Winyat Chartmontri. Krit's bail application was initially denied last week because of a paperwork problem.
Krit was arrested earlier this month for his role in circulating a fake palace statement that purported to be issued by His Majesty the King. Police say Krit, a local Redshirt activist in Phetchabun province, was "among the first" people to share the document on social media.
The forged statement said that 87-year-old King Bhumibol had appointed a Regent to act on his behalf. The document was declared false by the Thai government within an hour.
Krit was held at any army camp for five days of interrogation before he was handed over to police and charged with insulting the monarchy, a law known as lese majeste, and violating the Computer Crime Act. Thailand's lese majeste law, the strictest of its kind in the world, carries a penalty of up to 15 years in prison.
The online editor of a newspaper that briefly published the fake statement was also charged with lese majeste last week and released on bail that same day. Both suspects are facing trial in martial court, which was granted jurisidiction over lese majeste cases by Thailand's military junta last year.
Lese majeste suspects in Thailand are rarely released on bail, with courts citing the "severity" of the crime and the likelihood that suspects will attempt to flee.
Among those currently facing prosecution are two theatre activists who were accused of insulting the Royal Family by staging a play about a fictional monarch in October 2013. The pair has been held in prison and repeatedly denied bail since they were arrested last August.