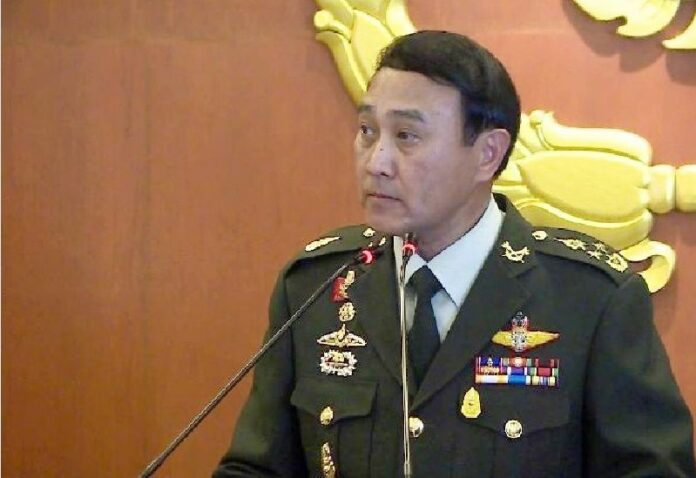 BANGKOK — Thailand's military leaders have shot down a proposal to talk with former Prime Minister Thaksin Shinawatra, who they said can only contribute to the reform effort by returning to Thailand and facing the judicial process.
"I can't talk with anyone wanted by law," said junta chairman and Prime Minister Gen. Prayuth Chan-ocha. "Don't forget that Mr. Thaksin has legal problems. Do you think I can talk to him?"
The junta chairman was responding to a proposal to enlist Thaksin's help in moderating a discussion between the country's political camps, which are largely drawn along pro- versus anti-Thaksin lines.
Gen. Prayuth added that Thaksin could only participate in the national reconciliation process by returning to Thailand to serve his two year sentence or contest the case in court.
Although Thaksin has lived in self-imposed exile since 2008 to avoid a corruption conviction over a land deal, he has continued to exert significant influence over Thai politics through close communication with Pheu Thai Party politicians and Redshirt leaders.
The government toppled in the May 2014 coup was led by Thaksin's sister, Yingluck Shinawtra, who is widely considered to have acted as her brother's proxy.
Since seizing power, the Thai junta, formally known as the National Council for Peace and Order (NCPO), has suspended democracy in Thailand to oversee a national reform effort aimed at "achieving unity" between the country's bitterly divided political factions.
According to Thai army chief Udomdet Sitabutr, the junta's efforts are "running smoothly."
"Everything is in accordance with the intended plan to create peace and order and reduce conflicts in society," he said.
He also urged people to be more open-minded about the junta's practice of summoning critics to army camps for "attitude adjustment" sessions. It's necessary to "correct" the views of those who disagree with the government because they present an obstacle to national reconciliation, he explained.
"I believe the majority of people understand the reasons why the government calls people in for attitude adjustment," said Gen. Udomdet. "We urge [other] people to be more open-minded."