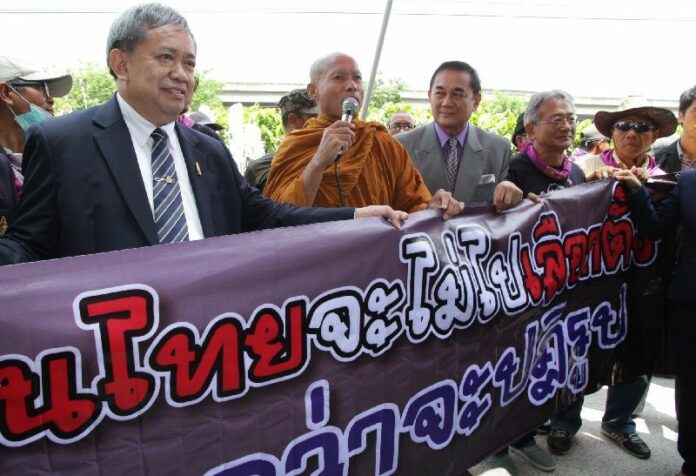 BANGKOK — A vast majority of "community leaders" across Thailand believe that Thai people are not yet ready for a new election, a survey shows.
The survey was commissioned by a group called the Thai Researchers in Community Happiness Association (TRICHA) and published on its website yesterday.
The group interviewed "community leaders" in 659 communities across the Kingdom between February 19-21 about a number of political issues, including the question of whether Thailand is ready for a general election.
According to the poll, 71.2 percent of the respondents said Thailand is not ready, citing reasons like "there is still a conflict," "the situation still looks chaotic," "suitable people cannot be found yet," and "the government and the NCPO are doing good works."
The junta, officially known as the National Council for Peace and Order (NCPO), says a national election will be held by 2016 at the earliest, given that the "national reform" and "reconciliation" efforts have been completed.
According to the survey, a majority of "community leaders" agree with the NCPO's decision to delay an election until reforms are implemented. More than 80 percent of respondents said that it will be better to hold an election after the reforms, because that will give the government "full time to arrange a just and transparent election," and "the situation will be more calm in that time."
Orapin Pongprasert, secretary of TRICHA, told Khaosod English that the "community leaders" interviewed in the survey were local administrators holding the ranks of Village Chief and Kamnan (sub-district head). Both positions are semi-elected according to Thai laws; Kamnans are appointed by Village Chiefs, who are elected once by village residents but allowed to hold their post until the age of 60.
"Our survey intended to trace social trends across different issues," Orapin said. "We believe these leaders are the representatives and voices of their communities."
The number of survey respondents were chosen in proportion to the population in each of Thailand's six regions, Orapin added, but did not give an exact number of the ratio.
Yingluck Shinawatra, the leader of the previous government, dissolved Parliament and called a snap election in December 2013 in response to escalating protests against her government.
The election was held on 2 February 2014, but later invalidated by a court after protesters interfered with candidate registration and succesfully blocked many voters from reaching polling stations.
The leaders of the protests, known as the People's Committee for Absolute Democracy With the King As Head of State (PCAD), demanded the Yingluck's government be replaced by an unelected "People's Council" to reform the country before elections.
The PCAD's calls for "reform before election" were eventually taken up by the military junta that seized power on 22 May 2014 following six months of street protests.