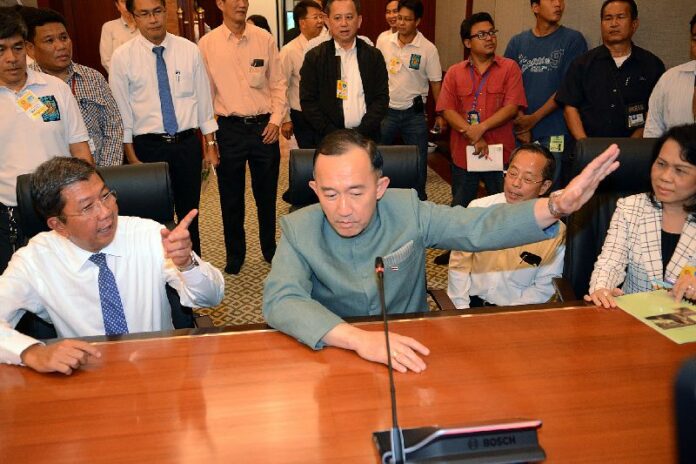 BANGKOK — Thailand's anti-corruption agency has spared junta chairman and Prime Minister Prayuth Chan-ocha from its inquiry into the government's 67.9 million baht purchase of unusually expensive microphones and other equipment last year.
The 192 microphones, which cost 145,000 baht each, were purchased for the Cabinet conference room in the Government House last September, days before Gen. Prayuth and his Cabinet ministers moved into their offices. The newly-installed military government also ordered a 520,000-baht television screen, 19,000-baht TV wall mount, and 110,000 LED lamps for the room.
The unusually high price tag of the equipment caught the attention of media agencies and critics of the government, who speculated that corruption lay behind the deal. Suspicions were further raised after the Thai supplier of the microphones, Bosch, changed the price of the equipment from 99,000 baht to 199,000 baht several days after criticism started to mount.
NACC spokesperson Vicha Mahakhun announced yesterday that ten officials from the Department of Public Works, including the department's director Monthol Sudprasert, will be investigated over the purchases.
"They are connected to the calculation and bargaining of the price that [could have] violated bureaucratic regulations and benefited certain private companies," Vicha said.
However, top executives like Prayuth and Panadda Diskul, Minister of the Prime Minister's Office, will not be investigated because they merely "approved" the purchases, Vicha said.
The NACC was initially reluctant to launch an inquiry into microphone purchase, leading to accusations that the agency was collaborating with the junta. The commission eventually agreed to investigate the incident after a group of activists submitted a letter of protest to the NACC in September 2014.