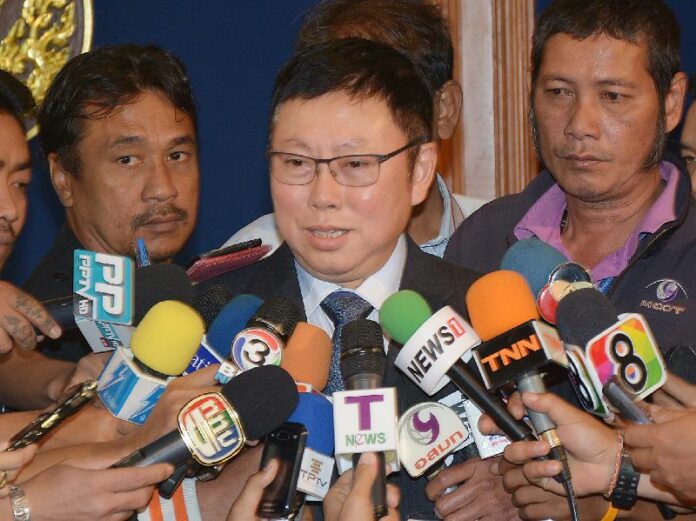 BANGKOK — The chairman of the junta-appointed Constitution Drafting Committee has urged the media to stop describing the next Senate as "unelected" and use the term "indirectly elected" instead.
"Certain newspapers and TV channels have identified the new Senate as unelected," CDC chairman Bowornsak Uwanno said at a press conference today. "It's not lovely. It's an inaccurate presentation of news."
The CDC announced yesterday that the next Senate will be a fully-appointed body under the new charter.
The Senate will consist of 200 members, half of whom will be chosen by the council of "experts," which Bowornsak described as "a diverse group of individuals with expertise and morality about politics, national administration, the judicial system, society, ethnology, and folk wisdom."
It remains unclear how the council of experts will be chosen.
The other Senators – also appointed – will be chosen from a pool of former high-level politicians and bureaucrats such as prime ministers, military commanders, parliament speakers, judicial leaders, and representatives from other civic organizations.
Each senator can only serve one six-year term.
Under the previous constitution, which was dissolved after the May 2014 coup, the Senate was a half-appointed, half-elected body. The CDC's announcement of a fully-appointed Senate appears to confirm speculation among political analysts that the military junta is seeking to further curb the influence of elected politicians.
However, the CDC chairman stresed today that elected members of local administrative organizations will be included in the process of selecting senators, because they will be responsible from choosing 100 senators from a list of 200 candidates approved by the panel of "experts."
"Therefore, accusations that the new Senate is unelected are false," Bowornsak said.
He also told reporters that some foreign countries have similar parliamentary models, citing France, though he failed to point out that French senators are indirectly elected by a "super-electorate" of elected local and regional officials, whose options are not screened by any unelected panel of professionals.
"Columnists have the freedom to express their opinions," Bowornsak said. "But as for the news presentation, headlines, and news reporting by anchormen, it is absolutely necessary that they have to present accurate and unbiased news reports. Otherwise, the public will be exposed to one-sided information."
The CDC is expected to finish drafting the new charter by September of this year, after which it will be sent to the junta for approval.
The junta has promised to hold an election after the constitution is finalized, given that "national reconciliation" has been completed and the political climate is deemed stable.
CORRECTION: Senators will only be able to serve one six-year term under the new charter, not two terms as the original version of this article stated.