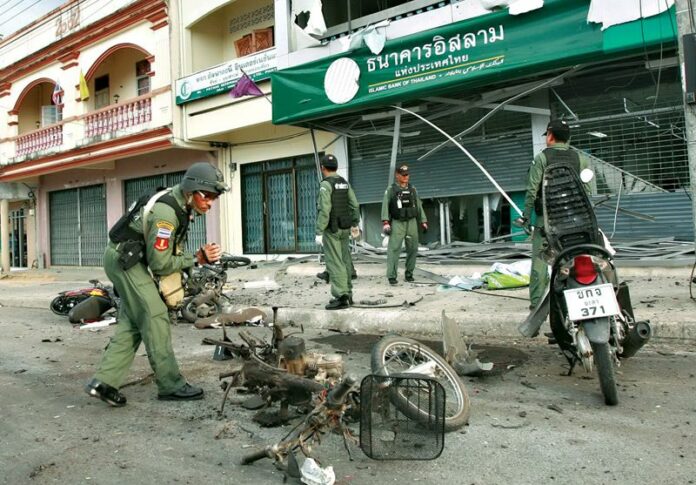 BANGKOK — The commander-in-chief of the Royal Thai Army has pledged to begin withdrawing some troops from Thailand's insurgency-plagued south in April 2015.
Gen. Udomdet Sitabutr said the partial withdrawal is a part of the military's new approach to battling Islamic insurgents in the three southern border provinces of Pattani, Narathiwat, and Yala, where 60,000 security officers are currently deployed. Many of the soldiers have been drafted from other regions of Thailand.

Gen. Udomdet Sitabutr at the Royal Thai Army headquarters in Bangkok, 21 July 2014​.
"[The new phase] will focus on building peace and sustainable development, so we will decrease the number troops in the region, and there will be a reshuffle," Gen. Udomdet said. "We want regional troops to be in charge of their own area. We will decrease troops from armies in other regions."
Under the new plan, the 4th Region Army will take a leading role in the region, said Gen. Udomdet. The troop reduction is set to begin in April, starting with areas that are ready for the withdrawal.
The army chief also insisted that the situation in the region, known as the Deep South, has been improving despite the recent car bomb in the town center of Naratiwat that injured at least 13 people.
"If we talk about number of attacks and number of casualties, when compared with the previous period, we have managed to cut the statistics in half, even though the bombs in Narathiwat affected public feeling and damaged the community," Gen. Udomdet told reporters.
"We are sorry about that, and we are working with police officers in the region," he continued. "There has been progress. We have issued arrest warrants for two individuals that we believe were behind the violent incident. We are also waiting for an investigation to connect them with other individuals. I expect that the suspects will be arrested soon."
The near-daily bombings and gun attacks that have plagued the Deep South over the past decade have been carried out by a network of shadowy insurgent groups who aim to revive the independent sultanate of Pattani, which was incorporated into Thailand in early 20th century.
At least 6,000 people, mostly civilians, have died since the violence broke out in early 2004, rights groups estimate.
According to the Southern Border Provinces Police Operations Center, the number of fatalities in the Deep South decreased to 212 deaths in 2014, compared to 322 in 2013 and 326 in 2012.
The latest incident of violence at the time of publication took place at around 8 am this morning, when ten soldiers on patrol encountered a roadside explosion in Yala province. No one was injured, as the bomb went off several seconds after the patrol vehicles passed the site.
For comments, or corrections to this article please contact: [email protected]
You can also find Khaosod English on Twitter and Facebook
http://twitter.com/KhaosodEnglish
http://www.facebook.com/KhaosodEnglish