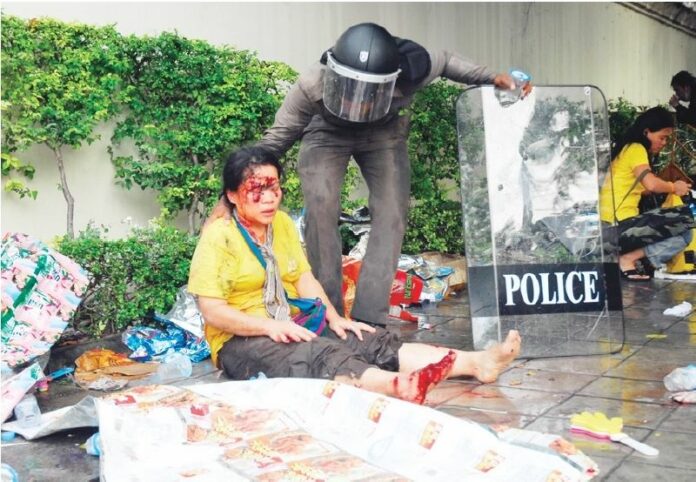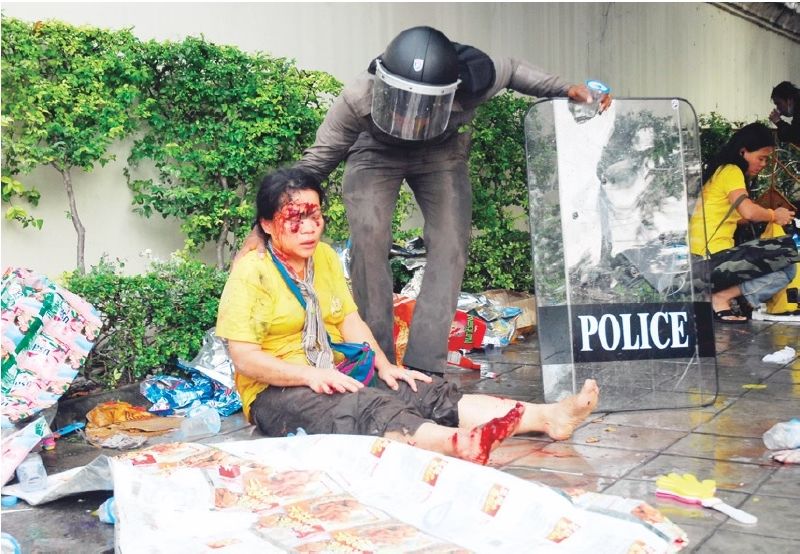 BANGKOK — Thailand's national anti-graft body has begun investigating the compensation funds given to victims of political protests by the former government toppled in the 22 May coup.
In 2012, former Prime Minister Yingluck Shinawatra's administration approved a program that awarded financial compensation to those affected by the surges of political unrest that rocked Thailand between 2005 and 2010. The money was given to individuals who were disabled or injured by the violence, as well as the relatives of those who died in the unrest.
According to Panthep Klanarongran, chairman of the National Anti-Corruption Commission (NACC), 524 individuals were compensated under the scheme, totaling 577 million baht of state money. The NACC is now seeking to determine whether the program was rigged in favor of the Redshirts, the political faction that supported Yingluck's government.
"The NACC is investigating the issue. We will see whether the compensation money was paid only to a certain political group, and not to the other group," Panthep told reporters in yesterday's press conference. He named Yingluck and her entire cabinet at the time as defendants.
Thailand has careened back-and-forth between protests organized by rival political camps for much of the last decade, starting with mass demonstrations by the Yellowshirts against then-PM Thaksin Shinawatra in 2005, which culminated in a military coup the following year. Protests organized by Yellowshirt and Redshirt groups continued to erupt in the following years, ending in another military coup in May 2014.
The bloodiest period of unrest took place between April – May 2010, when Redshirts occupied parts of Bangkok to demand a fresh election from the Yellowshirt-backed government. Then-PM Abhisit Vejjajiva responded by ordering a military crackdown on the protesters, leading to deaths of more than 90 people, mostly civilians.
Worachai Hema, an MP in Yingluck's government, said the compensation program was not biased, contrary to the NACC's accusation.
"It wasn't a one-sided compensation. I don't know where the NACC got that information from," Worachai said.
He also said he supported the current government's plan to compensate victims of the latest round of protests, as long as it covers protesters of "all colors" and security officers who were injured and killed in the violence. Nearly 3o people were killed during the six months of political protests in Bangkok that preceded the 22 May coup.
Junta chairman and Prime Minister Prayuth Chan-ocha announced the plan several days ago, and insisted that the compensation will cover both Yellowshirts and Redshirts.
"Everyone will be included, because everyone is Thai," Gen. Prayuth said. "The government has the duty to take care of everyone without preference."
The NACC has long been accused of harboring a political bias against Yingluck and other politicians allied to the Redshirt movement. In January, the agency successfully brought about Yingluck's retroactive impeachment, resulting in her five-year ban from political office.
For comments, or corrections to this article please contact:[email protected]
You can also find Khaosod English on Twitter and Facebook
http://twitter.com/KhaosodEnglish
http://www.facebook.com/KhaosodEnglish